Holiday Fun Awaits in Four New PBS Kids DVDS
Juliann Newton


11/10/2015 03:41PM

Holiday Fun Awaits in Four New PBS Kids DVDS

New DVDs Available from PBS Distribution November 3 are

"Caillou: Caillou's Christmas," "Odd Squad: Reindeer Games,"
"Peg + Cat: A Totally Awesome Christmas," and "WordWorld: Merry Christmas"
It is already time for kids to get excited about Christmas and parents to get to buying gifts for those kiddos! (My son, Braxton is already writing up his letter to Santa.) Below are some fun holiday DVDs/gift ideas from PBS Kids.
PBS Distribution recently announced that it has released four new holiday themed DVDs! Each DVD features a different PBS KIDS series – CAILLOU, ODD SQUAD, PEG + CAT, and WORDWORLD. In these DVDs, which feature holiday hijinks and winter fun, kids will learn new math and reading skills as well as exercise their imaginations.
The run time of each of these new DVDs is approximately 60 minutes. " CAILLOU'S CHRISTMAS" has an SRP of $12.99, while the other three DVDs have an SRP of $6.99. More information about each DVD is below.
" CAILLOU: CAILLOU'S CHRISTMAS"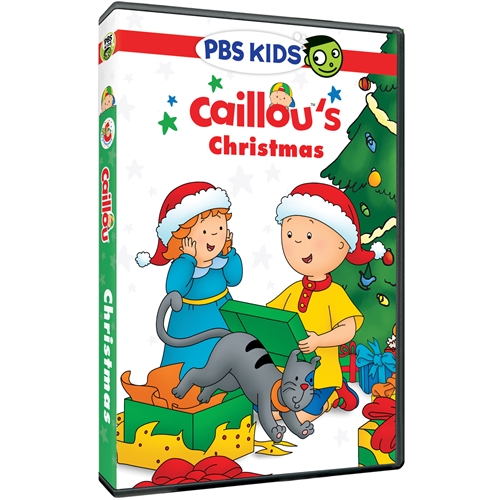 " CAILLOU'S CHRISTMAS" includes 12 fun-filled holiday and winter themed adventures! From visiting Santa and going Christmas tree shopping in "Holiday Magic," to planning to stay up all night to see Santa in "Caillou's Christmas Eve," this DVD features stories that will get kids into the holiday spirit. In addition to these two tales, this DVD also includes "Caillou Goes Caroling," "Caillou's Snowman," "Winter Mystery," and "Dogsled Ahead!"
" ODD SQUAD: REINDEER GAMES"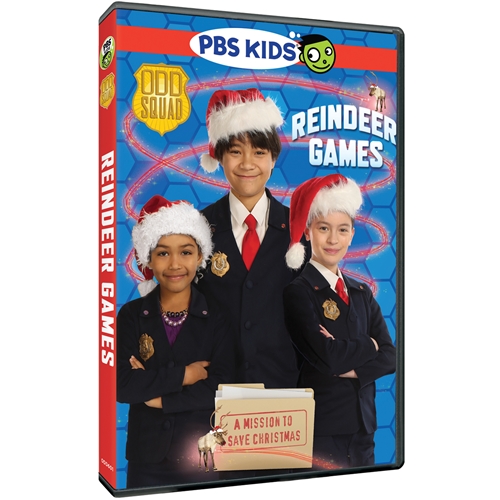 The first ODD SQUAD DVD release, " REINDEER GAMES" features three stories – "Reindeer Games," "Ms. O Uh-Oh," and "Party of 5,4,3,2,1." In "Reindeer Games," Ms. O attempts to get off Santa's naughty list, while Olive and Otto combine forces with Santa to find his missing reindeer, which have accidently been shrunk and escaped their barn! Using math skills, including geometry and spatial sense, the agents must locate all the reindeer and help Santa deliver presents.

ODD SQUAD is a live-action series with the goal of helping kids ages 5-8 learn math. The show focuses on two young agents, Olive and Otto, who are part of Odd Squad, an agency whose mission is to save the day whenever something unusual happens. ODD SQUAD is created by Tim McKeon and Adam Peltzman and produced by Sinking Ship Entertainment and The Fred Rogers Company.
" PEG + CAT: A TOTALLY AWESOME CHRISTMAS"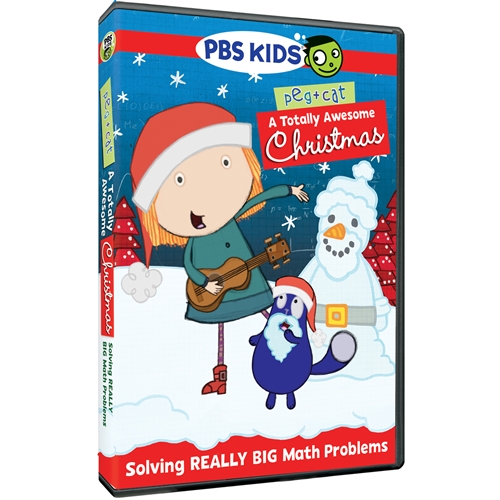 " PEG + CAT: A TOTALLY AWESOME CHRISTMAS" includes three mathematical adventures – "The Christmas Problem," "The Penguin Problem" and "The Blockette Problem." In "The Christmas Problem," Peg and Cat travel to the North Pole on Christmas Eve to see Santa. When Santa accidently flies away in Peg and Cat's spaceship, they need to find a way to make and deliver presents for all the kids of the world. Tackling one problem at a time, Peg and Cat must fix the Super Big Present Making Machine, figure out how to get the presents into 100 sleighs, and work to make sure all 100 sleighs are accounted for after a huge snowstorm.
PEG + CAT is created by Jennifer Oxley and Billy Aronson and produced by The Fred Rogers Company. ODD SQUAD and PEG + CAT are funded by the Corporation for Public Broadcasting (CPB) and the U.S. Department of Education through the CPB-PBS Ready To Learn Initiative, a program that supports the development of innovative educational television and digital media targeted to preschool and early elementary school children and their families, especially those from low-income communities.
" WORDWORLD: MERRY CHRISTMAS"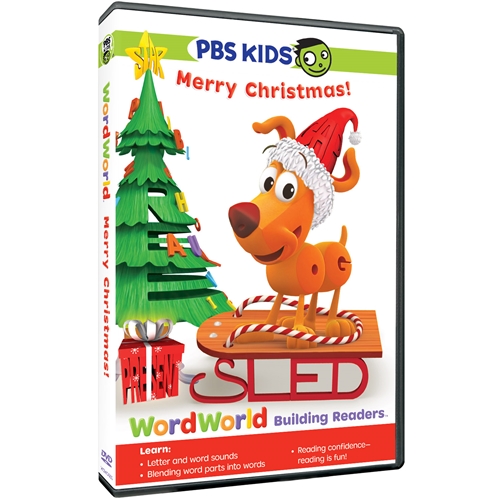 This DVD features five stories, including "A Christmas Present for Dog" and "The Christmas Star." In "A Christmas Present for Dog," the WordFriends write letters to Santa so he knows what to bring them. Dog asks for a ball and Bear asks for a doll. When all the letters for Dog's present don't make it down the chimney, all he has is B-A-L. Filled with the Christmas spirit, Bear makes a sacrifice to ensure Dog's Christmas will be merry!
About PBS Distribution
PBS Distribution is the leading media distributor for the public television community, both domestically and internationally, extending the reach of these programs beyond broadcast while generating revenue for the public television system, stations, and producers.
PBS Distribution offers a diverse range of programming to our customers, including Ken Burns's films, documentaries from award-winning series such as NOVA, FRONTLINE, AMERICAN MASTERS, NATURE, and AMERICAN EXPERIENCE, dramas from MASTERPIECE, as well as films from independent producers and popular children's programming. PBS Distribution offers consumers high-quality content in multiple formats including DVD, Blu-ray, digital download, and digital streaming, and is also a leading source for factual content for international broadcast, cable, and satellite services.
About PBS KIDS
PBS KIDS, the number one educational media brand for kids, offers all children the opportunity to explore new ideas and new worlds through television, digital platforms and community-based programs. Kidscreen- and Webby-award winning pbskids.org provides engaging interactive content, including digital games and streaming video. PBS KIDS also offers mobile apps to help support young children's learning. The PBS KIDS Video App is available on a variety of mobile devices and on platforms such as Roku, Apple TV, Amazon Fire TV, Android TV, Xbox One and Chromecast. For more information on specific PBS KIDS content supporting literacy, science, math and more, visit pbs.org/pressroom , or follow PBS KIDS on Twitter and Facebook .
About DHX Brands
DHX Brands is the dedicated brand-management and consumer-products arm of DHX Media Ltd. (NASDAQ: DHXM; TSX: DHX.A, DHX.B) ( www.dhxmedia.com ) , a leading creator, producer, marketer and broadcaster of family entertainment. DHX Brands specializes in creating, building and maintaining high-profile global entertainment brands within the children's and young-adult markets. With expertise in brand development, licensing, marketing and creative, we develop brands which captivate and inspire through engaging content, first-class distribution, quality consumer products, immersive live experiences, and digital media. DHX Brands' world-class portfolio includes Teletubbies, Twirlywoos, In the Night Garden, Yo Gabba Gabba!, Caillou , Make It Pop!, Slugterra, and Degrassi. DHX Brands has offices in London, Toronto and Los Angeles.
About Sinking Ship Entertainment
Sinking Ship Entertainment is an award-winning production and interactive company that creates and produces groundbreaking kids TV and transmedia content. Since its founding in 2004, Sinking Ship has created and produced numerous children's TV series and has been on the forefront of TV production and interactive media for kids. From being selected as one of the first partners of Amazon Studios with the upcoming series "Annedroids" to achieving Nick Jr.'s highest debut of all time with the action-packed series "Dino Dan," Sinking Ship Entertainment brings dynamic content to audiences around the world with shows broadcast in more than 130 countries. Other series highlights include the award-winning "This Is Daniel Cook," "This Is Emily Yeung" and "Are We There Yet?: World Adventure." Find out more at www.sinkingship.ca .
About The Fred Rogers Company
The company was founded by Fred Rogers in 1971 as the non-profit producer of Mister Rogers' Neighborhood for PBS. In the years that followed, it not only created hundreds of episodes of this much-loved program, but also extended Fred's values and approach to other efforts in promoting children's social, emotional and behavioral health and supporting parents, caregivers, teachers and other professionals in their work with children. The Fred Rogers Company continues to build on Fred's legacy in innovative ways through a wide variety of media, and engaging new generations of children and families with his timeless wisdom. The company's highly-rated, award-winning children's series include Daniel Tiger's Neighborhood, Peg + Cat and Odd Squad. For more information, visit www.fredrogers.org.
About WordWorld
"WordWorld" was developed with funding from the U.S. Department of Education as part of the Ready To Learn initiative. Incorporating the latest research into the most effective ways for kids to build reading skills, "WordWorld" produces delightful educational experiences for preschool children, on screen, in print, and online. "WordWorld" is owned by General Word LP.
About CPB
The Corporation for Public Broadcasting (CPB), a private, nonprofit corporation created by Congress in 1967, is the steward of the federal government's investment in public broadcasting. It helps support the operations of more than 1,400 locally owned and operated public television and radio stations nationwide, and is the largest single source of funding for research, technology, and program development for public radio, television and related online services. For more information, visit www.cpb.org.
About The Ready To Learn Initiative
The Ready To Learn Initiative is a cooperative agreement funded and managed by the U.S. Department of Education's Office of Innovation and Improvement. It supports the development of innovative educational television and digital media targeted at preschool and early elementary school children and their families. Its general goal is to promote early learning and school readiness, with a particular interest in reaching low-income children. In addition to creating television and other media products, the program supports activities intended to promote national distribution of the programming, effective educational uses of the programming, community-based outreach and research on educational effectiveness. Proceeds from " PEG + CAT: A TOTALLY AWESOME CHRISTMAS " and "ODD SQUAD: REINDEER GAMES" will help support projects that further the goals and objectives of the Ready To Learn Initiative.
---
Disclaimer: I received copies of these DVDs to review. Any opinions are my own.