Sweet Deal: Free Dessert at Red Robin for a Limited Time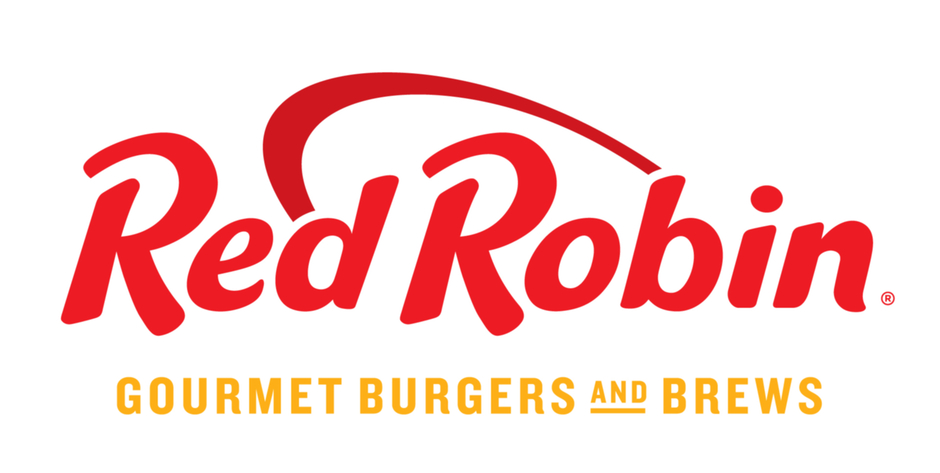 My husband and I love Red Robin! Especially my husband. He chooses to eat there several times a week when he is out of town for work. If there is a Red Robin Restaurant within a 50 mile radius, he will always find it. And on our Anniversary, my birthday and his birthday, where do you suppose he takes me out to? You guessed it! Red Robin!
Right now, Red Robin is having a very Sweet Deal: Free Dessert at Red Robin for a Limited Time!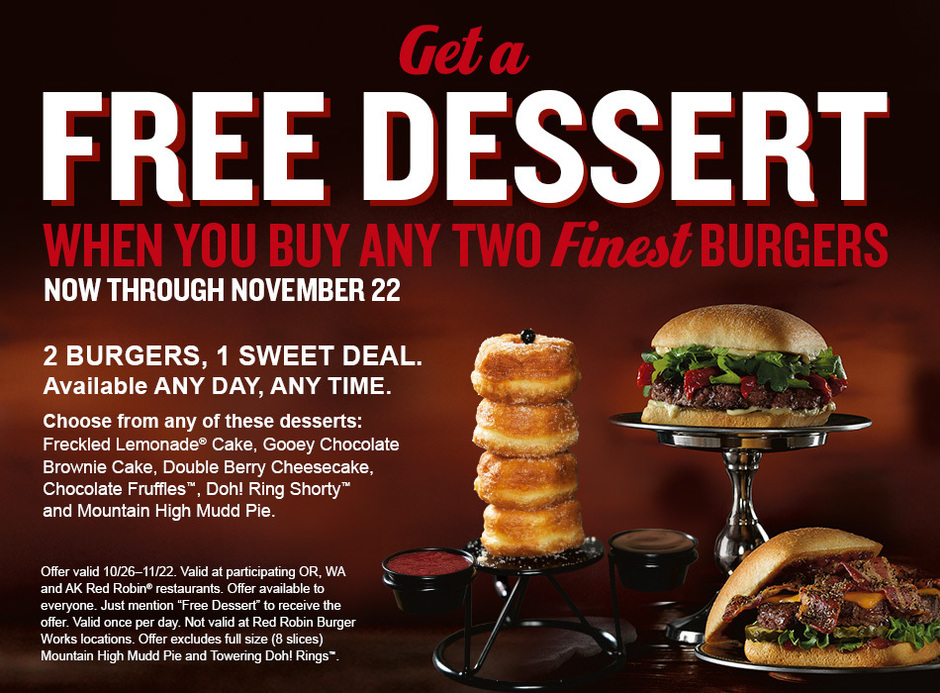 WHAT: Red Robin guests can take advantage of a "sweet" offer and receive a FREE dessert with the purchase of any two burgers from Red Robin's Finest premium burger line, now through Nov. 22.
Just mention "free dessert" and choose from any of these delicious desserts: Freckled Lemonade® Cake, Gooey Chocolate Brownie Cake, Double Berry Cheesecake, Chocolate Fruffles™, Doh! Ring Shorty™ and Mountain High Mudd Pie. For more details, visit www.redrobin.com/free-dessert .
Red Robin's Finest
Inspired by award-winning creations from the Food Network & Cooking Channel South Beach Wine & Food Festival's Amstel Light® Burger Bash, Red Robin's Finest includes the Smoke & Pepper™, The D.G.B.™, The Southern Charm Burger™ and Black & Bleu. Red Robin is also expanding its Finest line for the holiday season with the Mad Love™ Burger and new "Finest Chicken Burger."
Finest Chicken Burger
Red Robin's first premium chicken burger features an all-natural, seven ounce, fire-grilled chicken breast over arugula, covered with Fontina cheese and peppered bacon on an artisan telera bun spread with oven-roasted tomato aioli. Naming a new burger is always an exciting challenge, especially for new items like this, that's why Red Robin is giving guests an opportunity to help to name the new "Finest Chicken Burger," Only the finest ideas should be submitted to redrobin.com/namethatchicken or on social media channels using the hashtag #NameThatChicken for a chance to win free burgers for a year for themself and a friend.
WHEN: This sweet deal is available from Oct. 26 – Nov. 22, 2015
WHERE: Red Robin restaurants in Washington, Oregon and Alaska. To find the closest Red Robin restaurant, visit www.redrobin.com/locations .
---
Disclaimer: I will be sent a gift card in exchange for this post. All opinions are my own.