Allied Shirts
is a new custom t-shirt site where you can design shirts, hoodies, and sweatshirts any way you'd like.
Concert T-shirts. College T-shirts. Funny T-shirts. Graphic T-shirts. Solid T-shirts. Striped T-shirts. Old T-shirts. New T-shirts. You name it…
T-shirts are an awesome way to let your personality out. To remember a special event (or remember an event that's a bit hazy!). Or give your team some real spirit. It's like putting our heart on your sleeve, er, chest.
With Allied Shirts you'll find:
An easy-to-use design tool for making custom T-shirts
A great selection of high-quality T-shirts at fair prices
And, best of all… a personal commitment to the quality of your shirts
The team at Allied Shirts literally checks every shirt order that comes in for print quality and overall look. You never have to worry whether you uploaded the image incorrectly or if it will look great on a Tee. They'll check it over, and if necessary, fix it. They do all this by hand for every individual order.
Allied Custom Shirts are the PERFECT gift to give somebody this holiday season! It is so very easy to design the perfect shirt for that special someone. All you do is select the shirt you want, customize it by uploading any graphic or photo that you wish, add any text that you wish and you are done!
Our Experience: My daughter, Kendallyn wanted to customize a T shirt for Christmas for her sweet botfriend, Sammy. Sammy is a huge fan of Breaking Bad, so Kendallyn selected a Breaking Bad theme to design a T Shirt for Sammy. It was so easy! Shipping was very fast, too!
Here is the T shirt Kendallyn designed for Sammy: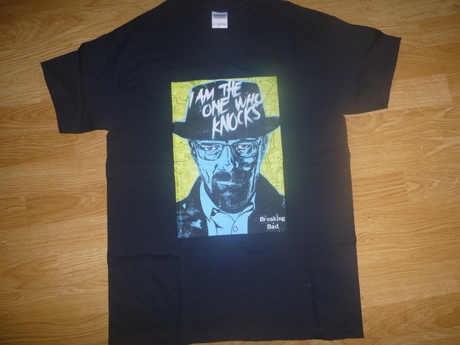 Sammy will love this!
The T shirt is of the highest quality fabric. The graphic looks amazing. This shirt looks like it would be one of the expensive ones that you would buy in a store at the mall. I am very impressed with Allied Custom Shirts and I would definitely order from them again.
Save!
Use the following code at checkout to
get 30% off plus free shipping:
BLOG30OFF4U
---
Disclaimer: I received a T shirt to review and to keep. The opinions are my own.