Being a beauty blogger, I am blessed to be able to try out and test many different skin care products. Once in awhile, one will come along and I am thinking, "Wow!" Good Karma Skincare's Lux 7 All-in-One Face Cream is one of those products. It combines a day cream, night cream, refining serum and eye cream all in one jar! Plus, it really works wonders on my skin!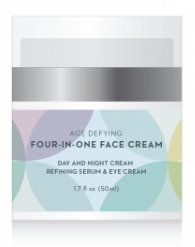 As a holistic practitioner with a demanding schedule, Cynthia Ransom was compelled to create much needed skincare products that are convenient, affordable, luxurious and truly natural….but most importantly, proven to yield genuine results.
Desiring an effective yet simple anti-aging routine, she began creating products using holistic ingredients and a few secret weapons. Her skin repairing arsenal included a mystical formula received from her client, a 68 year old Shaman that Cynthia will tell you has "amazing skin!"
The Shaman (or 'medicine woman') partnered with Good Karma to share her seven oil formula she received in meditation; thus Lux 7 was born. Using the oil as the foundation, Cynthia worked with bio-chemists for over two years to perfect her nutrient dense formulations. Once finalized, simplifying the beauty process was realized by taking four of her products; a daily moisturizer, a skin refining serum, an eye cream and a night cream and combining them into ONE JAR. Thus Lux 7 All-in-One Face Cream was born.
Using her holistic science knowledge and experience, Cynthia also helped to pioneer a new process used in all Good Karma products; Bio-Fresh™ is advanced homeopathy that helps to preserve the integrity of ingredients and direct the botanicals to work in synergy, creating beautiful complexions. And of course, they kept the original seven oil recipe as Lux 7 Rejuvenating Facial Oil.
Good Karma Skincare's ingredients are derived from 100% natural and renewable resources. Cynthia's Holistic background takes it even further, banning many unsafe natural and hidden ingredients commonly found in other products. Good Karma proudly boasts; "We don't test on animals, we feed them". As a matter of fact, a portion of every sale supports their program Beauty feeds the Beasts™, which provides a meal for an animal in a shelter. Now that's Good Karma!
I received a sample of Lux 7 All-in-One Face Cream to review and I have been using it for two weeks straight, both morning and night. The first thing I noticed was the light, creamy texture. After cleansing, I apply it all over my face, neck and chest area. It absorbs completely and makes my skin feel nice and refreshed.
As the days went by, I noticed that my skin looks so much younger. Any lines I was worried about have been reduced significantly. I never get greasy looking during the day the way I do with other day creams. Lux 7 All-in-One Face Cream is the perfect day and night cream and I would definitely recommend it to busy moms who don't have a lot of time to pamper themselves. It is very affordable, too! It is so much cheaper to have just one cream that does it all instead of 3-4 different ones that take up space, plus your money.
Good Karma Face Cream makes my skin glow!
About Good Karma Skincare
Founded in 2013, Good Karma Skincare is based on holistic science and the wisdom of a Shaman. As a traditional Naturopath, our founder Cynthia Ransom believed it was possible to achieve real results using therapeutic dosages of nutrients instead of chemicals AND do it in a simplified manner. Taking her four top products and putting them in one jar took 2 years to prefect; Lux 7 Four in One Face Cream is a game changer in the beauty arena. Previously concentrating on local clientele, Good Karma is now ready to go national because Everyone Deserves Good Karma!
Giveaway
Enter to win! Two winners will be chosen to receive a jar of Good Karma's Luxe 7 all-in-one face cream. (ARV: $48 ea.)
How? It's easy! Just enter to win using the Giveaway Tool form below. Good luck!
You can see the entire line of Lux 7 products at: www.GoodKarmaSkincare.com
---
*Product received. All opinions are my own.