I must admit that I have not jumped onto the essential oils bandwagon. I am honestly not quite there yet. However, I do believe that essential oils are beneficial to our health and well-being. Checkout the different types of essential oils here.
I love that they are all natural and do not contain any harmful or cancer-causing chemicals! I also believe in the benefits of aromatherapy. I love to experiment with different oil combinations to come up with mood lifting, or calming effects.
I have recently discovered the Guru Nanda Honeycomb Diffuser, which is a compact, easy to use, and one of the easiest ways to get started with aromatherapy. Honeycomb cycles through 7 different colors, providing a soothing, ambient light. It is also equipped with an automatic shut-off feature as well as overheating protection. ($25.99).
I am enjoying a set of Guru Nanda's Top 6 Essential Oil blends with my beautiful diffuser. This set allows users like me to discover the different therapeutic benefits offered by each blend as I discover my favorites among them.
Each of the six blends are made from 100% pure and natural, therapeutic grade oils sourced from the world's top growers, across 6 continents. The sample set contains adorable 10ml. bottles of the following blends: Tranquility, Breathe Easy, Thrive, Relaxation, Harmony, Calming Sleep Essential Oils.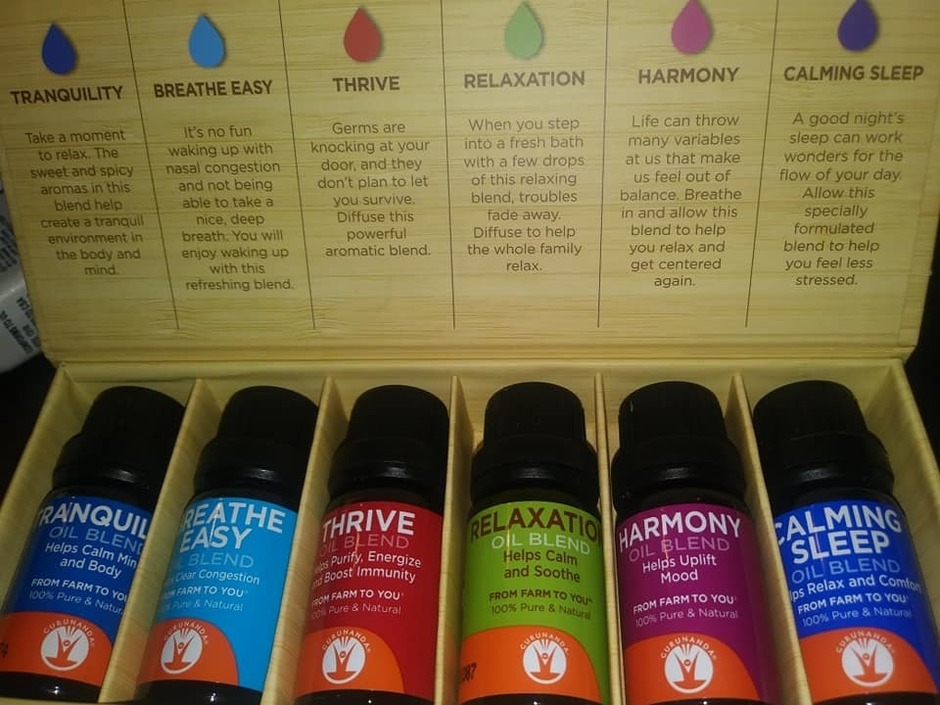 I love the peaceful colored LED lights that add a special visual element to the experience.as they change, while the device disperses a fine mist into the air that calms, relaxes, uplifts or invigorates depending on the essential oil used. It looks very elegant in my bedroom and my living room.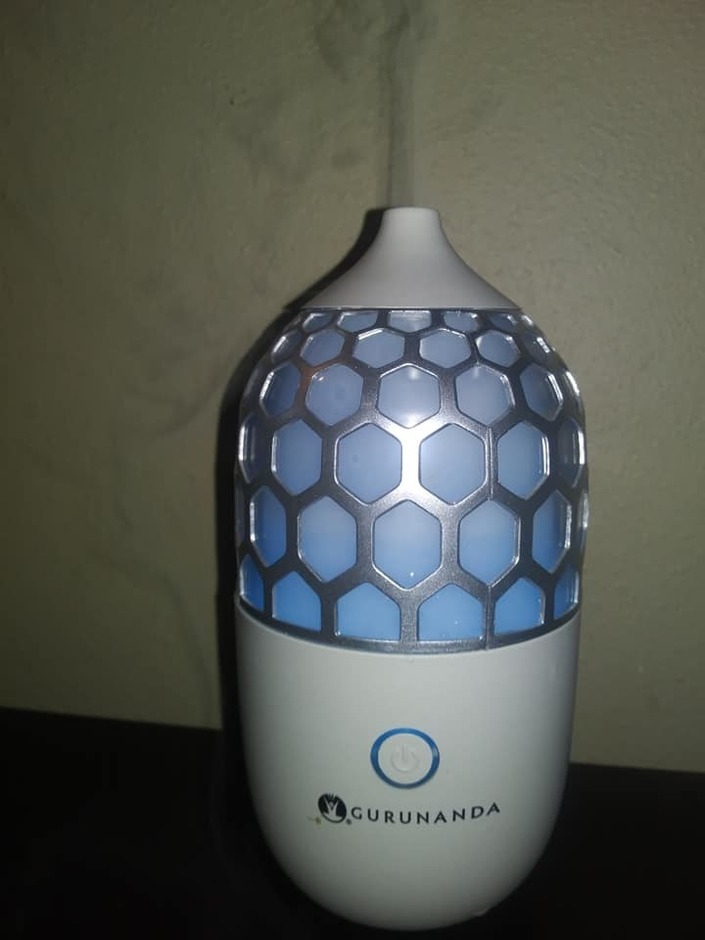 All I do is fill my diffuser with water up to the fill line, and add a drop or two of the oil of my choice. The amber glass keeps out light and preserves the integrity of the delicate botanical essences inside. The natural "air freshener" that provides a pure and healthy alternative to traditional chemical air fresheners, so I don't have to worry about my family breathing in harmful toxins.
The ultrasonic diffuser creates vibrations that are carried to the surface of the water where the oil is floating. The oil is broken down into nano particles and then diffused into the air, filling my home with uplifting fragrance.
My favorite oil blends so far are the Breathe Easy, because I had a cold recently, and this formula helped keep my stuffy nose clear all day. I have also enjoyed the Calming Sleep oil. I diffuse it in my room before I go to sleep. and I have noticed that I fall asleep, and sleep very well all night long.
This amazing unit automatically shuts off when water level is low, so I don't need to worry about shutting it off after I fall asleep.
Giveaway
Enter to win! One winner will receive aGuru Nanda 6 Pack Essential Oil Blends set, and a Honeycomb Diffuser, ARV: $50
How? It's easy! Just fill out the Giveaway Tools form below for your chance to win.
Available in the pharmacy section of select Walmart stores or on Amazon.
For further information, please visit: www.GuruNanda.com