G.M. Collin has developed high quality dermo-corrective skincare products for men and women of all ages to help us acheive more radiant, healthier, younger-looking skin.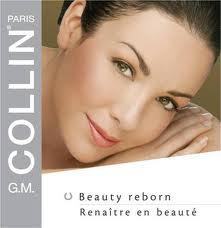 G.M. Collin was founded in France in 1957 by a dermatologist. Over the years, the company has become known for using the latest technology to develop innovative skin care products.
A team of highly skilled scientists and professionals develop all GM Collin formulas internally, selecting only active ingredients that have been proven safe and effective, and using them in optimal doses for the aesthetic conditions they are to treat.
G.M. Collin products are derived from natural plant and marine extracts and are technologically developed to achieve visible results. While our laboratory uses the highest scientific standards, our philosophy of respect for the environment mandates that our products are not tested on animals. Their ultimate goal is to offer the best skin care products on the market today, to help women and men look great while feeling good about how they achieved the results.
I received samples of three of G.M. Collins very fine products to review. They are Sensiderm Cleansing Milk, Intensive Exfoliating Gel, and Phyto Stem Cell+ Serum.
Sensiderm Cleansing Milk is a light creamy-textured emulsion which eliminates skin impurities, prevents dryness, and leaves the skin feeling clean and supple.
It restores the hydro-lipidic barrier and helps soothesensitive skin

Formulated with Royal Jelly, this milk nourishes, normalizes, and revitalizes the skin

With a neutral pH, it is the ideal skin care product for eye make-up removal
I use this amazing cleanser to remove my makeup at night. I usually take a shower every night, and I bring my Sensiderm Cleansing Milk into the shower with me to wash my face. It is such a thorough, yet gentle cleanser. I love how it also removes my eye makeup without burning my eyes. It leaves my skin fresh and clean.
Intensive Exfoliating Gel
Intensive Exfoliating Gel This highly innovative dual action gel exfoliates and tones the skin in just one step.
Enriched with oligo-elements, this exfoliating treatment brightens and hydrates, leaving the skin visibly pure, fresh and radiant.
It is made with a unique exfoliant combining the Subtilisin enzyme (identical to the one found in the skin) and other ingredients for added nourishing benefits.
I apply this exfoliating gel right after I wash my face. (I use it once per week.) I leave it on for 10-20 minutes and then I completely rinse it off. I love how very clean my face feels after I rinse and dry it off. With that barrier of dead skin cell layer gone, my skin care products are thus allowed to penetrate my skin much better, and much more effectively. It is amazing how my skin feels after a true exfoliation.
Phyto Stem Cell+ Serum
Phyto Stem Cell+ Serum uses new advanced technologies:
Plant Stem Cells to increase skin cells longevity.

Orsirtine™ to promote cell survival.

Renovage® for a DNA repair effect.
Five years of Research and Development led to the creation of a NEW GENERATION of anti-aging products designed to promote the cellular vitality of the skin and help delay the visible signs of aging.
This advanced anti-aging serum harnesses free radicals, brightens the complexion, softens and smoothes the skin's texture. It visibly improves the overall appearance of fine lines andwrinkles, as well as the firmness of the skin.
Results:
After 28 days, up to 92% wrinkle reduction and up to 63% improvement of the skin firmness. (see chart below)
This serum is so wonderful. I apply it after I cleanse my face every night, before I go to bed. First of all, I noticed that it smells very nice. I love the way it sinks right into my skin, as if my skin is drinking it up. There is zero greasy after feel and it does not leave any shine. All of my lines have almost completely vanished. I have only been using it for two weeks and my skin is definitely much firmer and so radiant. I love it!
I love my skin! (and my cat, too.)
To find out where to purchase G.M. Collin skincare products call 1-800-341-1531 (USA) ) to find the authorized G.M.Collin merchants.
---
Disclosure: I received samples of the products mentioned above to review and to keep. The opinions are my own.