I love Miracle Skin Transformer skincare products! It seems that they are always coming up with something that is just what I need. I was thrilled to have discovered Miracle Skin Transformer Heal Everything Balm.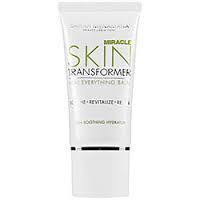 Miracle Skin Transformer Heal Everything Balm hydrates and softens your skin. It not only works to repairs facial skin ailments such as stubborn dry patches, but also helps to moisturize and nourish. The unique formula blends waxes, essential oils, botanical antioxidants and repairative ingredients, such as Manuka Honey and Japanese Licorice Root Extract to help hydrate, enhance and protect the skin.
Miracle Skin Transformer Heal Everything Balm's intensive M3 Complex contains a blend of over 30 moisturizers and emollient ingredients such as Tamanu Oil, Evening Primrose and Blue Mountain Sage Oil that enhances the skin's own natural repair process.
Helps skin recover from sun-induced irritation.
Helps protect, soothe and moisturize dry skin.
Helps reduce redness and irritation after waxing or shaving.
Helps reduce stinging.
Helps the skin maintain its own natural defenses against environmental assaults.
Helps reduce skin redness caused by weather burns, abrasions, and minor irritations.
Common Uses:
After strong exposure to sun
After skin has been irritated by waxing, shaving, and other cosmetic treatments
After exposure to cold in climates and wind burn
To alleviate irritation and redness due to chaffing
My Experience: I had a couple of dry marks on my face (one above my lip and the other on my neck) that I could not get rid of. I tried vaseline, heavy duty moisturizers (which sometimes stung) and also I even tried lip balm on those areas, to no avail. When I applied Miracle Skin Transformer Heal Everything Balm, the dry patches were gone the next day. My 17 year old daughter had a red chapped area under her nose that also healed after she applied Heal Everything Balm to it.
I absolutely love Miracle Skin Transformer Heal Everything Balm because not only does it heal dry patches, but it is a very light, non-greasy, clean smelling moisturizer with no harsh parfume smell or ingredients. I can even use it on my six year-old son's face.
Kendallyn's close-up! No more dry marks on this beautiful face!
---
Disclaimer: I received a sample of this product to review and to keep. The opinions are my own.