Calling all CURVY women – REAL women with REAL curves – Poetic Justice has the perfect jeans for you!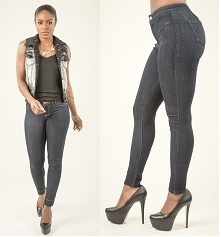 Introducing Poetic Justice Jeans, the trendsetting and grounding breaking new denim line with an urban vibe that flatters and accentuates a woman's natural curves. Designed in Los Angeles and available for purchase online, each distinctive style from Poetic Justice will fit curvy women like a glove.
Unlike every other jean brand, Poetic Justice jeans won't stretch out and become un-wearable because they are made with an exclusive blend of fabrics designed specifically to hold their shape. Poetic Justice truly brings to the marketplace a one-of-a-kind jean with a designer edge at an affordable price, starting at only $42, while celebrating healthy and beautiful women everywhere. There are literally no other jeans on the market that fit women like Poetic Justice. If you can't find any jeans that fit you the way you want we welcome you to put these to the test!
They have also recently added jackets and accessories to the line making Poetic Justice a one-stop shop for your head to toe statement making outfit.
Bella Gold Jeweled back pocket skinnies fit curves so well they should be called curvies! The Bold gold two-toned stitching and well-made-not-over-done decorated back pockets that sit high on the butt make your buns look amazing! Plus, nothing beats a dark wash jean for slimming and shaping. This pair catches the eye with fabulous two toned stitching and a dark rinse and will automatically be your "going out jeans". Simple style, lovely fit, and awesome quality.
My Experience: I have always had curves, even when I was a skinny teenager. Now, as I am older, it is usually very difficult to find jeans that are cute, yet will look good on my body type. I like the look of skinny jeans because my legs are slender, but they are always made for tiny girls and fit too tightly in the crotch. I would always have to keep pulling them up because the stiff fabric would slide down and not cooperate with my curves.
I absolutely love my new Bella Gold Jeweled back pocket skinnies because the fabric is flexible and molds around my buns and hips rather than remolding them. I am able to show off my curves in a way that actually looks nice and is flattering to my body type. They also go up high enough that my tummy does not bulge over the top, and my waist does not feel pinched or tightly bound. Plus they are so very comfortable! They feel like I am wearing pajamas! These are possibly the cutest and most stylish pair of jeans that I have ever worn. They look amazing with heels, flats or boots. I love them!
---
Disclaimer: I was sent a pair of Poetic Justice Jeans to review and to keep. All opinions are my own.