Probiotics are one of the most essential supplements that our bodies require to stay healthy. I have become a huge believer in the benefits of probiotics, and have recently become a huge fan of Dr. Ohhira's Probiotics®.
Editors at Better Nutrition Magazine recently selected Dr. Ohhira's Probiotics® as a 2019 "Best of Supplements" Award Winner in the Probiotic/Travel-Friendly Category, making this the ninth win for the renowned supplement. Editors from Better Nutrition presented the Award during the Natural Products Expo EAST held Sept. 11-14 in Baltimore, MD.
Better Nutrition Magazine wasn't the first to recognize Dr. Ohhira's as the best probiotic for travel. Meghan Markle bestowed the honor in her blog, The Tig. Not long before saying "yes" to Prince Harry, Meghan Markle posted a blog about her favorite travel essentials, and Dr. Ohhira's Probiotics was on her shortlist.
"Always travel with a high strain probiotic and hydrate like you're dying of thirst," Markle wrote, linking to the Essential Formulas website. "This dynamic duo of probiotics and water will keep your gut health in check and honestly stave off jet lag if you're globetrotting on your travels."
Dr. Ross Pelton, RPh, CCN, Essential Formulas Science Director, explains the reason Dr. Ohhira's is considered the premier probiotic supplement is the natural 3-year fermentation process that allows the beneficial bacteria to produce a multitude of "Postbiotic Metabolites."
"Postbiotic Metabolites are the new frontier in microbiome science," said Dr. Pelton. "Scientists are learning that postbiotic metabolites are the master health-regulating compounds in the body. They play a role in regulating every organ system, including the immune system and the brain."
To select the winning products, the editors of Better Nutrition Magazine conducted retailer surveys, as well as tallied up readers and staffers votes. The Better Nutrition Supplement Advisory Board, consisting of naturopathic physicians, health writers, and nutrition educators, considered the quality of the nominated supplements based on ingredients, reputation, and the science behind the products. The award winners are featured in the November 2019 issue of Better Nutrition Magazine.
I was given the chance to review Dr. Ohhira's Probiotics, and was sent several samples to try out. Below are the formulas I was given to try out.
Dr. Ohhira's Probiotics Original Formula– Since its origin over 30 years ago, Dr. Ohhira's Probiotics® has prided itself on purity and the pristine process that creates this perfect whole food supplement. Their nourishing prebiotic culture medium is comprised of EXCLUSIVELY pure spring water, fruits, wild vegetables, mushrooms, and seaweed.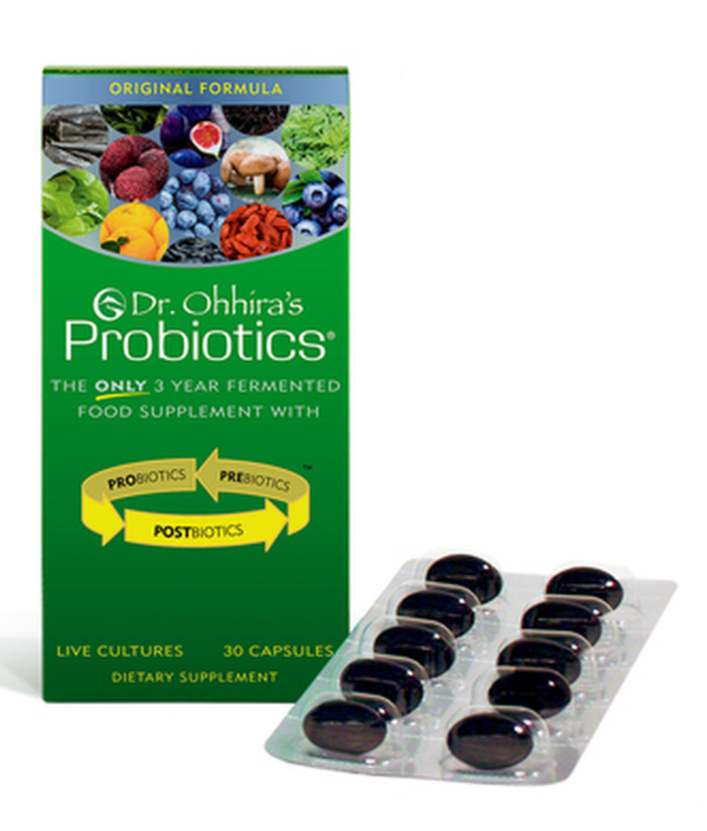 This carefully balanced and perfectly blended composition goes through a three-year fermentation process based on ancient Japanese traditions. Fermentation maximizes the natural health-promoting properties of each ingredient. The final result is an organic, living fusion that merges and encourages the evolution of your own exclusive internal bacteria. This, in turn, supports a healthy immune system and digestion of crucial micronutrients that your body needs to thrive and flourish.*
I take two of these gel caps per day with or before meals.
Reg'Activ – Immune & Vitality™ * contains the revolutionary probiotic strain Lactobacillus fermentum ME-3. Studied for over 20 years, ME-3 produces glutathione—well known for its antioxidant, detoxification, and immune system-supporting activities. It is a Probiotic that Supports Immune Health and is a Paradigm-changing probiotic which produces a key immune system antioxidant.
Glutathione is the body's "Master Antioxidant." It is used by every cell in the human body, and it's absolutely vital for immune health. Even in day-to-day life, immune system cells constantly interact with normal oxidative processes. These cells are big spenders when it comes to using the Master Antioxidant. They constantly rely on healthy glutathione levels for basic cellular upkeep
Reg'Activ – Immune & Vitality™* pairs these specialized probiotics with additional more familiar immune system nutrients:
L-Carnitine tartrate – Supports healthy energy levels*
Essential B vitamins – Additional support for healthy energy and metabolism*
Vitamin C – Well-known support for a healthy immune system*
It is suggested to take Take 2 capsules daily, 30 minutes before a meal.
Dr. Ohhira Propolis PLUS– is an incredible fusion of antioxidant and immune-supporting components. Think of it as: the secret life of bees meets the ancient wisdom of the ocean PLUS the proven science of Dr. Ohhira's probiotic extract. These all converge to create a truly singular supplement with benefits for immune health, digestive function, and antioxidant support.*
Dr. Ohhira's Propolis PLUS® is AVA Vegetarian certified and combines a unique and consistently potent Brazilian green propolis with flax oil Omega-3, complete prebiotic and probiotic support, and antioxidants vitamin E and astaxanthin. There is simply no other single-product combination like this on the market today.*This innovative whole health formula targets immune system response, digestive support, and antioxidant systems.
It is recommended to take three capsules daily with water: one in the morning, one in the afternoon, and one in the evening.
There is so much more information that I would love to share about Dr. Ohhira's Probiotics®, but one blog post is not long enough. To learn more, please visit: https://drohhiraprobiotics.com/