Does your child have a special keepsake book that tells the story of their birth? Bkeepsakes has created an adorable personalized storybook just for your child featuring Sonny the Stork.
Sonny the Stork is flying your way with a story all about your child's very first day. This adorable storybook is the perfect keepsake for your special little someone!
Sonny the Stork and his little buddy Berry the bluebird use fun rhyming text and adorable illustrations to tell the story of the day your child was born. By the time you read the last page of this adorable book, your child is sure to know just how truly special that day was!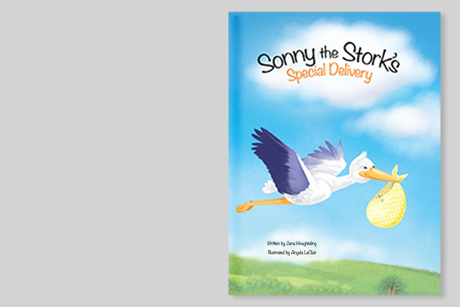 A Personalized Dust Jacket is included!
This book includes your child's…
Name (required)
Date of Birth (required)
Time of Birth (optional)
Birth Weight (optional)
Birth Length (optional)
Place of Birth – City, State & Hospital (all optional)
Gender (required) Pink bundle for a girl, Blue bundle for a boy
Names of Family and Friends (optional)
Photo on the Title Page (optional +$3.00)
A sweet little bluebird to find in every picture.
F.A.QS
Can the child's photo be included in the book?
Yes. You may choose to have the child's photo printed on the title page. Adding a photo makes the book extra-special!
What if I don't know all of the child's birth information?
No problem. We'll change the story to work perfectly without that information.
Do I have to include a dedication?
No. If you don't include a dedication, we'll add our standard dedication:
"This book was made especially for you. You're one-of-a-kind and this book is too!"
Behind the Creation of Sonny the Stork
Written by Jana Houghteling
Jana created the characters of Sonny the stork and his little buddy Berry the bluebird during her freshman year of college. She imagined Sonny as a gentle, grandfatherly stork and Berry as a busy little bluebird. It's been fun for her to see them come to life in the pages of this book!
Illustrated by Angela LeClair
Angi had a lot of fun with these two sweet birds and was happy to have the opportunity to create them in a soft, storybook style. She drew upon memories of her uncle – also known as Sonny – and her love of whimsy to give Sonny his personality.
Jana and Angi hope that you and your child will love these two adorable birds as much as they do!
To Win: One winner will be chosen to receive their own personalized copy of Sonny the Stork's Special Delivery!
How? It's Easy! Just enter below using the Rafflecopter form. Good Luck!
---
Disclaimer: I received no compensation for this post.