THE MODERN FAMILY COOKBOOK
With 30 million viewers each week and 18 Emmy Awards, Modern Family is a cultural phenomenon. THE MODERN FAMILY COOKBOOK brings the hit show to life with 100 easy-to-make recipes that center around the show's eccentric and hilarious characters while highlighting key moments from favorite episodes. From Phil's Traditional First-Day-of-School Pancakes (don't forget the whipped cream smile!) and the Dunphy's Failsafe Roast Chicken to Manny's Chocolate Torte; these dishes celebrate the crazy chaos of the family table. Recipes cover every meal and holiday, and are accompanied by mouthwatering food photography, show stills, and a complete episode guide. Just a few of the delicious recipes featured are:
• Mitchell's Vegetable-Gruyere Quiche (PG 36)
• Lily's Pot Stickers (PG 79)
• Claire's Cruncy Surprise Sandwich (PG 107)
• Gloria's Cilantro-Lime Rice (PG 116)
• Jay's Sloppy Jay's (PG 139)
• Claire's Pesto Shrimp Pasta (PG 168)
• Cam's Coffee-Frosted Brownies (PG 196)
• Claire & Phil's Basil-Infused Mojitos (PG 234)
There are also humorous sidebars, including How to Get Rid of Annoying Houseguests and Lily's Easy Diva Tips, which add an extra layer of fun. Other fun highlights include:
• A 'Which Modern Family Parent Are You?' quiz that starts with the question: You accidentally locked your kid in the car. What do you do? (PGS 86-87)
• A 'Gloria-English Dictionary' with definitions such as: Baby cheeses: (n.) dickens. Ex. "He scared the baby cheeses out of me!" (PGS 158-159)
Luke and Phil's Invention Matrix featuring Awesomeland, Adult Tricycles, Coffee Bot, The Phillowcase, and many more. (PGS 184-185
• The Top 10 Modern Family Secrets like 'The NyQuil Incident' and 'The Great Waitress Hoax'. (PGS 236-237)
• A full list of suggested menus for date night, anniversaries, Valentine's Day, Oscar parties, family game night, princess birthday parties, 4th of July barbecues, Sunday Funday Brunch, and more! (PGS 239-245)
THE MODERN FAMILY COOKBOOK is the perfect gift for anyone who loves to cook and a must-have for every fan of the show.
These look delicious. I want to try this recipe!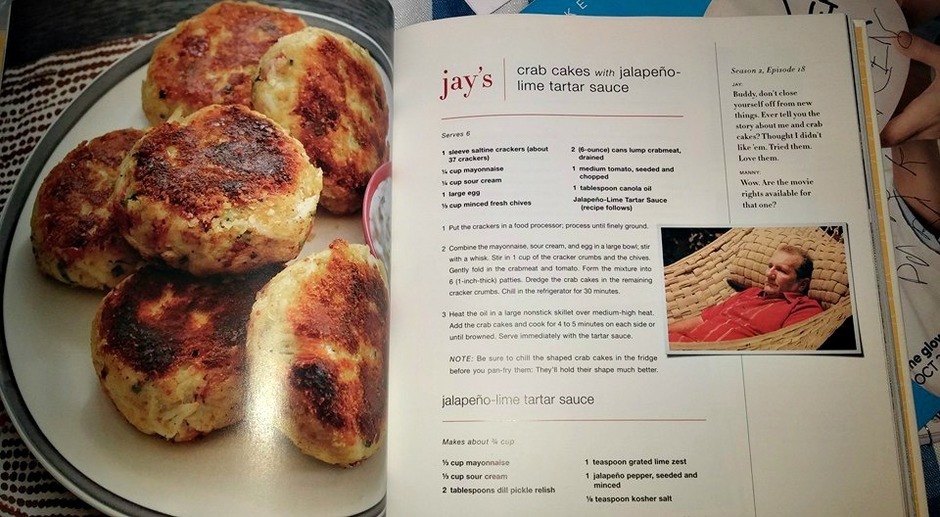 I had to add in this hilarious photo of my oldest son, Jonathan 'modeling' with my Modern Family Cookbook. Look at that kitten, she has no idea what to think of that!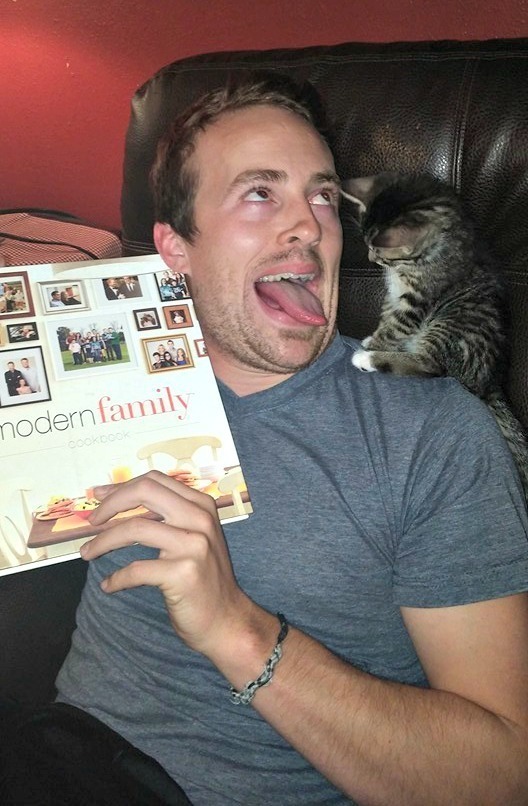 Order The Modern Family Cookbook
on Amazon
---
Disclaimer: I received a copy of this book to review and to keep. Any opinions are my own.