As the weather changes from season to season, so does my skin. My skin tends to be dryer in the winter due to colder temperatures outside, and warmer temps from indoor heating.
These changes in temperature cause dramatic fluctuations that my skin is constantly having to adapt to.
To help help my skin transition into these cooler weather conditions, I need a miracle product to set the stage for a season of beautiful, glowing skin.
Thankfully, I discovered AllWell Botanical Radiance Face + Body Mask, which is an all over face and body mask that is formulated for all skin types, tones + genders. This moisturizing mask is packed with powerful plant based ingredients that boost your skin's natural radiance by exfoliating, refining and firming for glowing skin.
This heavenly formulation is made from upcycled plant materials and is clean to the highest standard in the industry without silicones, phthalates, parabens or sulfates. It helps to soothe and restore the skin back to its natural, healthy glow.
This botanical mask was created to help reduce any kind of inflammation, hyperpigmentation, dark spots, and large pores. It also soothes, balances, firms and hydrates the skin.
It prepares your skin the skin for seasonal changes throughout the year, protecting it from damage and preparing it for the harsh elements- rain, wind, snow or sun……..come what may.
When I received my bottle of AllWellBeauty Mask, I was excited to try it out. To prepare my skin, I quickly hopped into the shower to rinse off, since it is best to use the mask on clean, dry skin. After toweling off, I applied a nice sized 'glob' of this dark brown mask onto my face, neck and chest area. It was actually a lot of fun, spreading the mask all over my skin! I looked like I had just rolled in a huge mud puddle. It kind of reminded me of when I would play in the mud when I was a little girl.
I gave my husband a peep-show, and he thought I looked a little freaky! I thought I looked cool!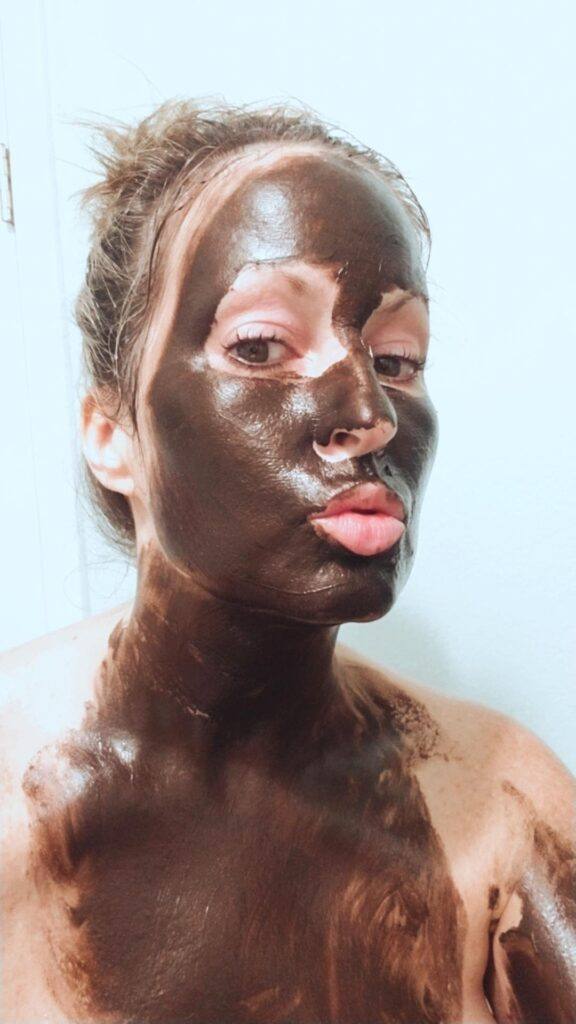 I left the mask on for about 15-20 minutes. I used that time to take a few funny selfies, and to read up on social media. After the mask was dry, I knew that I had the choice to jump back into the shower, and rinse all of that glorious brown down the drain, but I wanted to have a little fun first.
With the tip of my finger I started rubbing the dried mask off by rolling it around in a circular motion. I actually LOVE the removal process because it feels like I am exfoliating my skin at the same time as removing the mask. I had to step into the shower to continue this process because it started to get very messy. My newly revealed skin feels so baby smooth and soft. After I finished removing most of the mask by hand, I just rinsed the rest off with the water. It really does cause a muddy mess in the shower, but that is all part of the experience, and it ends up going down the drain anyway, so it is no big deal. It really is a fun process! I love the way my skin feels after I have rinsed and towel dried. My skin feels refreshed, renewed and radiant.
I enjoy using my AllWellBeauty Mask once per week for optimal results.
Not only do I love the AllWell Botanical Radiance Face + Body Mask, I also love this company's initiative 'Caring for the Carers',  in which they believe in giving back to our healthcare heroes like doctors, nurses and healthcare workers who have given so much to us over the past year. These dedicated individuals endure long shifts wearing N95 masks which can cause skin irritation, redness and dry skin. AllWell  has gifted face + body masks in hopes to help soothe and restore their skin back to its natural, healthy glow.
Giveaway
Enter to win! One winner will receive a full-sized Botanical Radiance Face + Body Mask from AllWell Beauty. (ARV: $42.00)
Just fill in the Giveaway Tools form below for your chance to win. Good luck!
To learn more about AllWell Beauty, please visit: https://www.allwellbeauty.com/