Cosmetics 27 was created by Michele Evrard, a pharmacist and an international cosmetic expert, who envisioned a line of skincare products that would address the needs of her demanding skin: anti aging and rejuvenating yet soothing and nurturing. With the help of scientists and a cutting edge French laboratory, she developed an outstanding luxury skincare line that would gather all the ingredients for success:
A proprietary combination of highly effective natural ingredients:
3 natural purified extract of Centella Asiatica for its exceptional repairing and rejuvenating benefits.

Innovative and exceptional textures inspired by traditional apothecary preparations such as balms and ointments.

Scientific expertise supported by continuous testing for unbiased proven results.

Specific application routine to enhance the product efficacy for long lasting results.
Cosmetics 27 offers a simple yet sophisticated regenerating skincare regimen: essential products for cleansing, moisturizing,regenerating and correcting: Cleanser 27, Essence 27, Baume 27, Eyes27…simple steps to a beautiful skin.
I received samples of Cosmetics 27's 3 main products, Cleanser 27, Essence 27 and Baume 27 to review.
Cleanser 27 is a very unique 3-phase formula: a balm becoming an oil that turns into an emulsion in contact with water. This gentle formula can be used every morning and evening. Naturally fragranced to soothe the senses. 100% natural ingredients among them Centella Asiatica Bio-extract, bamboo powder, chamomile extract.
My Experience: I had never experienced a cleanser quite like Cleanser 27 before. It looks like wax at first glance. I scooped out a pea sized amount and rubbed it all over my face before my shower. I even rubbed it on my eye area to remove my eye makeup, and it did not sting. I applied it to my face, neck and chest and then I turned on the shower and all of my makeup just melted away, and it rinsed off thoroughly and easily. I am not kidding, my face was squeaky clean with zero residue. My eye makeup was gone, and my skin felt refreshed and renewed. Not many other cleansers have left my skin feeling this clean! Cleanser 27 is unique and I love it!
Essence 27 is a serum type formula that works as a hydrating agent and a cellular energy booster. It moisturizes the skin thoroughly and intensively, stimulating cellular activity whilst soothing stressed skin. It is a highly efficient beauty treatment. The ultra-fine emulsion is to be used as an essential 'treatment base" and is quickly absorbed by the skin thanks to its lamellar structure. The formula contains 99% natural ingredients among them Centella Asiatica bio extract, Hyaluronic Acid and Vitamin C.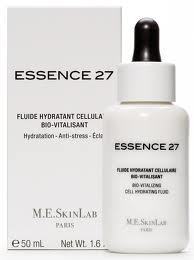 My Experience: After I cleanse my face and dry off, I apply this luxurious serum to my face, neck and chest area. It absorbs completely and feels so wonderful! My skin is bright and luminous, and it feels and looks healthier. My lines appear smoothed and my face looks more relaxed. Just what I need.
Baume 27 is a daily global anti-aging treatment. It brings complete skin re-balancing and energizing action and effectively stimulates cell repair. Result of unbiased research as a tangible proof of its efficacy, it simply delivers visible results.With a powerful tissue repairing formula, it contains 27 ingredients that act in synergy to repair, restructure, regenerate, stimulate, protect, nourish, moisturize and soothe the skin.
My Experience: At first glance, I thought Baume 27 looked like it would be a heavy cream and would make my skin look greasy. After I applied it to my face, neck and decollatage, I was pleasantly surprised at how well it completely absorbed into my skin. Even after I applied my makeup over it, there was zero greasiness, zero shine. My skin felt completely renewed, perfectly moisturized and looked radiant. I absolutely love Baum 27. It is the perfect day as well as night cream.
To learn more about Cosmetics 27 products, or to purchase go to: https://www.cosmetics27-us.com
---
Disclaimer: I received samples of the products mentioned above to review and to keep. The opinions are my own.