How had I never heard of Lottie London? I was recently given the chance to review several of their products, and I am OBSESSED! I love finding cosmetics that help me look my best without breaking the bank!
Lottie London is a cosmetic company with products that are 100% vegan and 100% cruelty free. Lottie London products are now available at Walmart.com and in 598 Walmart stores as of June 2021.
With all products ranging from $5.98 – $10.98, there is something for every budget! Not only are Lottie London cosmetics affordable, they are also FABULOUS! Their line consists of everything you'll need to achieve a fresh, daytime look- or a night time glamorous look.
No matter what look you are after, Lottie London's high quality products will get you looking Instagram worthy in no time!
I received samples of Lottie London's best-selling products that have debuted this month at Walmart. I am very impressed with the quality of each product I have tried!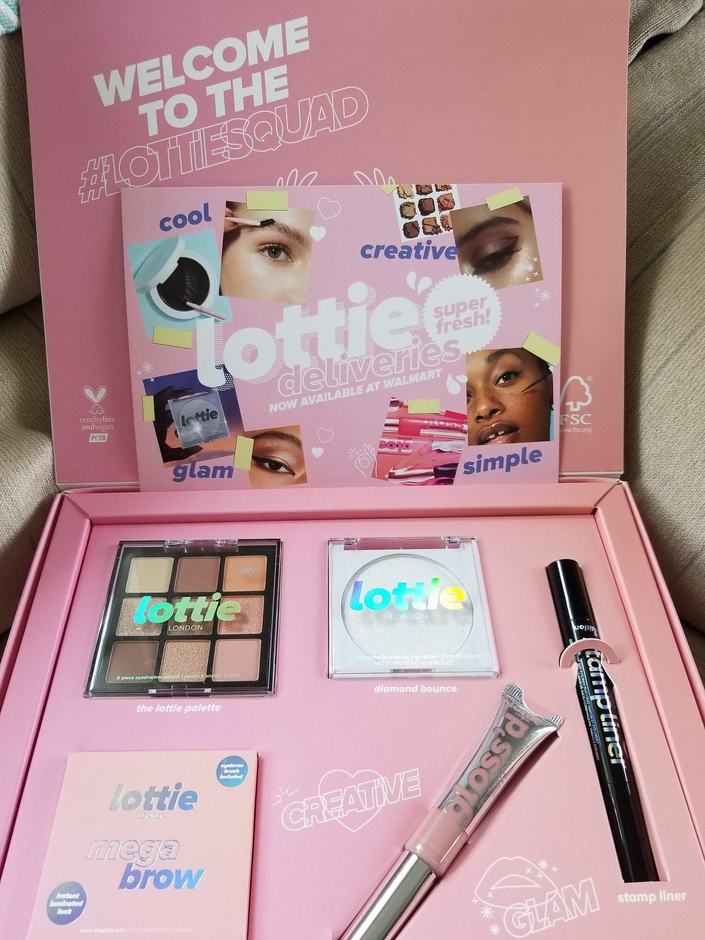 Here are my favorites:
Mega Brow, Brow Wax and Brush Set– I love how this clear wax shapes and sets my brows with the non-drying, water activated wax to hold my brows in place all day. Choose between clear wax or a tinted version for a darker brow to add an extra dimension of definition.
Sweet Lips Overnight Lip Mask– I love a good lip mask! I'm definitely obsessed with this one! This hydrating overnight lip masks keeps my lips looking and feeling smooth and soft. Infused with nourishing jojoba oil and moisturizing shea butter. Sweet Lips is the ultimate lip rejuvenator. My lips stay hydrated all night long and throughout the next day. Sweet Lips is available in Minted, Totally Coco and Just Juicy.
Diamond Bounce Highlighter– This unique, gel-powder highlight is awesome for adding a bit of sparkle to my skin. – Ultra-fine silver mica has been suspended in a transparent base for blinding diamond dust shine. Available in two shades Silver and Golden. I love adding a touch of the silver to my matte lipstick to add dimension. It is also fun to mix with my body lotion, and apply to my arms and legs for a sassy glow. The possibilities are endless!
Oil Slick Lip Gloss– Who doesn't love a great lip gloss alone or as a top coat? Lottie London's Sweet Lips Lip Oil has been infused with almond oil for instant hydration, plus nourishing cherry or vanilla extracts for luscious lips.
Stamp Liner-Wing Edition– I have the hardest time trying to achieve the perfect "cat eye' or 'wing.' Lottie London Stamp Liner: Wing Edition, eye liner stamp and pen was designed to effortlessly create perfect winged eyeliner in no time. Featuring a double ended design with a stamp on one end and a pointed tip on the other, it makes it easy to get the look I want!
Lottie Palette Eye Shadow– Lottie London's best selling Lottie Palettes are back with new color combos! Each Palette is packed with nine on-trend, highly pigmented shades; mix and match buttery mattes and smooth shimmers for the ultimate dimensional glam.
Freckle Tint– Simply dot onto the face and dab with fingers or a blending sponge and set with translucent powder for a natural look, or go bold and create a look with ALL the freckles you want! ( I do not use this because I have always had natural freckles that I cover up with foundation, but I still think it is a cute idea for those that desire that trendy freckled look.)
Shimmer Squad– Featuring 4 natural ultra-blendable powder highlighters that will strobe and illuminate all skin tones. Apply directly to cheekbones, brow bones, cupid's bow and wherever the light naturally catches the face to add instant luminosity and glow to your complexion.
For more information, go to: https://lottie.london
Don't forget to join the #LottieSquad