There's nothing that makes me feel sexier than a cute pair of designer jeans.
Grace in LA
has set out to provide a trend-driven, embellished take on classic denim, with an impeccable fit to match. Grace in LA uses the finest fabrics and washes while incorporating immaculate finishing techniques. With a strong reaction to its core western inspired boot cut collection, Grace in LA demonstrates continuous growth with the development of their Easy Fit, Plus, Girls 7-16 and most recent, Girls 4-6X line.
Specializing in intricate bejeweled and embroidered denim, the brand continues to incorporate its signature detailing while maintaining a fashion forward approach to design. With a variety of silhouettes, Grace in LA provides the perfect fit for every fashionista.
My Experience: I was sent a pair of Grace in LA jeans for my review. They are so very comfortable! They fit my body nicely and compliment my figure. I love the embelleshment on the pockets, and the back flap pockets really flatter my derrier! Very trendy. Very cute. Definitely my kind of denim.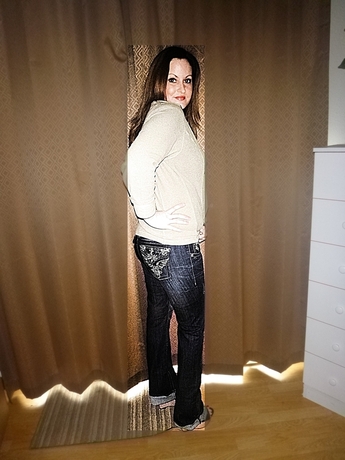 Not your average 'Mom' jeans!
I love Grace in LA jeans! You can purchase them at respected retailers including The Buckle, Boot Barn, Cavenders, and Vanity.
---
Disclaimer: I was sent a pair of Grace in LA jeans to review and to keep. The opinions are my own.