There's nothing quite like having a gorgeous manicure with long wearing nail polish that stays on forever! I have recently discovered gel nail polish. I absolutely love it! I am even more thrilled that I have found the MelodySusie Pro60W Smart Lamp Gel Nail Dryer so that I can do my nails at home without having to visit the nail salon.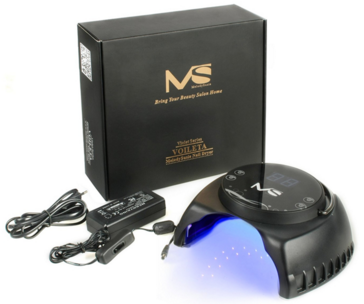 The MelodySusie Pro60W Smart Lamp Gel Nail Dryer cures my gel nail polish so that it lasts as long as possible. This is a miracle for me because my nail polish usually always comes off in a day or two since I am constantly doing dishes and washing my hands.
This lamp is very easy to use. You simply polish your nails with your favorite gel nail polish, set the timer, insert your hand in (the lamp lights up automatically when your hands are inserted) and wait for your polish to cure. This nail dryer has 4 kinds of pre-set time controls ( 15 seconds, 30 seconds, 45 seconds and 60 seconds), you can choose which time you want, according to your needs. The lights automatically turn off when the time is up.
The MelodySusie Pro60W Smart Lamp Gel Nail Dryer can work with UV and LED GEL Nail Polish such as following brand nail polish:
UV: CND Shellac Color Coat, CND Shellac Top Coat, CND Shellac Base Coat etc.
LED: Harmony Gelish Soak Off Series, OPI Gelcolor Nail Polish, Orly Gel FX, Red Carpet Led Gel Polish, Gelicious GEL Nail Polish, Any LED GEL Polish etc.
You can even do your toenails!
After curing my polish with this Smart Lamp Gel Nail Dryer, my manicure lasts for about two weeks! This can really be a lifesaver. For instance, if you are going on vacation, you can do your nails ahead of time and not have to worry about touching up your nails while you are away. This will certainly come in handy for when I go to Hawaii in July for my oldest son's wedding.
The photo below is of my daughter's nails after using the MelodySusie Pro60W Smart Lamp Gel Nail Dryer. This is how her nails looked nine days after she used the lamp! Wow!
Buy MelodySusie Pro60W Smart Lamp Gel Nail Dryer
on Amazon!
For additional information go to: https://www.melodysusie.com/
---
Disclaimer: I received a sample unit for review purposes. All opinions are my own.