With the fall season in full swing and the winter months approaching, the time has finally arrived to enjoy your favorite cold-weather dishes. To bring a bold boost of flavor to everyday meals this season, Holland House Cooking Wines has partnered with YouTube cooking show Tatyana's Everyday Food to create a delectable recipe perfect for sweater weather.
Tatyana's Everyday Food and Holland House's recipe for Bold and Smoky Pepper Marsala Pasta can be viewed at https://www.youtube.com/watch?v=dLfQMK-1KvU. Holland House is a line of flavor-enhancing premium cooking wines that enhance sauces, marinades, slow cooker recipes, glazes and more. See below for the detailed recipe and a screen grab of the pasta dish:
Bold and Smoky Pepper Marsala Pasta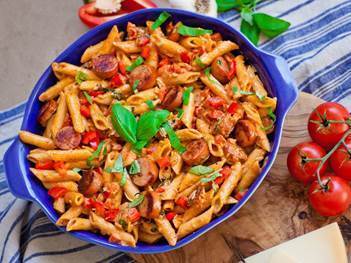 RECIPE – Bold and Smoky Pepper Marsala Pasta
PREP TIME: 45 minutes
SERVINGS: 4 servings
INGREDIENTS:
2 large red bell peppers
Olive oil
Salt and black pepper
4 links (1lb) smoky sausage
1 large shallot, diced
4 garlic cloves, minced
1 teaspoon smoked paprika
½ teaspoon dried basil
½ teaspoon dried thyme
½ teaspoon salt
½ teaspoon ground black pepper
1 cup Holland House 'Marsala' cooking wine
¼ cup tomato paste
½ cup heavy cream
½ cup grated parmesan cheese
½ pound penne pasta
Small bunch fresh basil
INSTRUCTIONS:
1. Prepare the roasted red bell pepper.
a. Preheat oven to 425F. Cut each red bell pepper into quarters, discarding the seeds and removing any white membrane.
b. Arrange the peppers on a small baking dish. Drizzle generously with olive oil; season with salt and ground black pepper.
c. Bake in preheated oven for about 15 minutes, until peppers are slightly charred and tender.
d. Once peppers are done, dice the peppers into pea sized pieces.
2. Prepare pasta according to package instructions. Keep warm.
3. Meanwhile, prepare the sausage.
a. Remove any casings, if needed, and slice sausage into small disks.
b. Preheat a large, cast-iron pan over medium heat. Add the sliced sausage and brown all over.
c. Remove the sausage from the pan and into a small bowl; set aside.
4. Prepare the sauce.
a. Into the same pan, add the diced shallot and garlic. Cook for a few minutes until tender.
b. Add all of the spices and seasonings and tomato paste.
c. Add Holland House 'Marsala' cooking wine. Cook the sauce for 5 minutes.
d. Add the diced roasted red bell pepper. Return the sausage to the pan and mix all ingredients together, then bring to a simmer. Cook for 10 minutes, to allow flavor to develop.
e. Add the heavy cream and parmesan cheese. Cook until cheese is completely melted.
5. Once sauce has cooked, add the prepared pasta and toss to coat.
a. Garnish the top with chopped basil and more parmesan cheese.
How to use cooking wines:
Holland House Cooking Wines are fantastic for quick and easy meals when you want a lot of flavor without tons of steps or prep.
Holland House's bold flavor can boost any dish whether it's pasta for a family dinner or chili to serve a crowd.
Holland House Cooking Wine is a go-to countertop item because cooking wine can be used in everyday meals.
Thanks to more than 100 years of tradition, Holland House Cooking Wines bring out the delectable flavor in slow cookers, meats, soups and sauces.
Try all five cooking wine flavors in your favorite recipes:
Marsala cooking wine imparts a well-rounded, sweet wine flavor with hints of hazelnut that is versatile and ideal for cooking with beef, chicken and pork.
Sherry cooking wine offers a mild, sherry-wine flavor with hints of nut and caramel, perfect for use in dessert recipes to balance sweet with a hit of nutty flavor.
Red cooking wine offers a smooth, medium-bodied wine flavor that is ideal for cooking heartier dishes like beef, lamb and pork.
White cooking wine adds a slightly dry, but distinct wine flavor perfect for bringing out the bold flavors in chicken, seafood and sauces.
White with Lemon cooking wine brings a citrusy twist to the traditional white wine flavor, ideal for cooking lighter dishes like seafood.
Background on Tatyana Nesteruk: For more than four years, Tatyana Nesteruk has been sharing custom recipes for every day, family-friendly meals with her viewers.
Tatyana specializes in step-by-step tutorials that make it easy for anyone to make great dishes at home.
Tatyana shares her Ukrainian heritage with her viewers by sharing Ukrainian, Russian and Eastern European recipes passed down from her parents alongside her own custom recipes inspired by the Italian, French and Asian cuisines. She specializes in creating flavorful, globally-inspired recipes that are easy to follow and can be enjoyed at home.
Where to Watch: To watch the new episode of "Tatyana's Everyday Food" featuring Holland House Cooking Wines, visit https://www.youtube.com/watch?v=dLfQMK-1KvUor visit www.HollandHouseFlavors.com.
Where to buy online: https://eyelevellink.com/collections/condiments-sa…
Download a Coupon: https://bit.ly/2ddjRsM
Giveaway
Enter to win: One winner will receive a set of 3 Holland House Cooking Wines
How? It's easy! Just enter to win using the Giveaway Tools form below. Good luck!
---
*Product received. All opinions are my own.