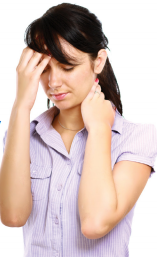 Anxiety affects everything we do. It makes us feel overwhelmed, destroys our ability to rest and sleep, harms our immunity, and stops us from experiencing joy. Unfortunately, prescription drugs for anxiety reduction often cause serious side effects. But there's a better solution.
We all know that echinacea is good for colds, but there's a unique species Echinacea angustifolia that can greatly reduce anxiety. This specialized, clinically-tested echinacea calms the jitters and fears that take a toll on your mental and physical health. It also matches the symptom relief of a prescription, but without side effects. (See press release below.) With this unique echinacea extract, you will:
Reduce—or eliminate—anxiety
Stop persistent worrying
Eliminate unrealistic fears
Reduce physical symptoms associated with stress
Sleep better at night
Feel more comfortable in social situations
Meet challenges and daily obstacles with confidence
Reports Indicate Alarming Increase in Number of Anxiety Sufferers
AnxioCalm important tool to alleviate distress
The National Institute of Mental Health (NIMH) reports that 18.1% Adults and 25% Teens between the ages of 12 and 18 suffer with some type of anxiety. The October 2013 issue of the Pentagon's Medical Surveillance Monthly Reports recounts a 300% increase in anxiety amongst service members since 2000. The American Psychological Association (APA) reports that between 62% and 66% (depending on geographical area) of Americans state their stress level is higher than that considered healthy, and up to 26% state their stress is in the extreme range. Additionally, 35% of Americans reported their stress increased in the previous year.
"This is a troubling trend. We can debate causative factors for this profound increase, but the fact remains that anxiety interferes with work, travel, relationships, social opportunities—it touches all areas of life. Another problem is the associated rise in common interventions that can cause more physical harm than good. Finding a clinically proven natural product that alleviates stress and anxiety safely and effectively is an important step forward in addressing this anxiety epidemic. AnxioCalm® is a product I often recommend with excellent results," states author and psychiatric nurse, Cheryl Myers, chief of scientific affairs for EuroPharma, Inc.®
Developed by the Hungarian Academy of Science in Budapest, AnxioCalm is a unique echinacoside group extracted from one species of echinacea, shown in research to attach to cannabinoid receptors in the brain to elicit a sensation of calm without sedation.
Dr. Jozsef Haller, Ph.D., D.Sc., Department of Behavioral Neurobiology at the Hungarian Academy of Sciences, Institute of Experimental Medicine, states, "Many people are surprised to find that there are unique compounds in echinacea that have a potent effect on reducing anxiety and nervous tension. AnxioCalm is a single spectrum of compounds found only in meaningful amounts in Echinacea angustifolia. We have published human studies that confirm that AnxioCalm can greatly reduce anxiety without causing serious side effects and no issues with addiction or dependence. I believe AnxioCalm is superior to other interventions because of its safety and speed of response. In one study, anxiety was significantly reduced after the third day of use, with continued improvements over the course of 3 weeks."
AnxioCalm is distributed exclusively in North America by EuroPharma, Inc. in the Terry Naturally ® brand and is available in quality health food stores and integrative pharmacies nationwide.
My thoughts: I suffer from occasional anxiety, and in my past, I have dealt with it using prescription medications from my doctor that were highly addictive and they made me so very sleepy. Those medications even affected my memory, causing me to not remember events that happened when I was on them. That is no way to live my life. I would much rather suffer from anxiety!
I am thankful to have discovered AnxioCalm. I am able to use it anytime I feel anxiety coming on and it calms me down without making me feel tired. When I take it at bedtime, it is a miracle! It helps me rest deeply without any panic attacks (which I often get from worrying about everything.)
EuroPharma, Inc . offers clinically proven and effective nutritional supplements and natural medicines that improve the health of America. Terry Lemerond, founder and president of EuroPharma, is well-known for innovation, and is credited as the first to introduce glucosamine sulfate and standardized Ginkgo biloba to the U.S. natural products market. Some of his current exclusive products include the award winning Curamin®, a natural pain relief product†, CuraMed® containing BCM-95® high absorption curcumin, SagaPro® for bladder health, Vectomega® full-spectrum omega 3 salmon extract, and Traumaplant® Comfrey Cream. The full line of dietary supplements is available throughout the U.S. in both the health food store and professional distribution channels. At EuroPharma, Our Passion is Your Health ™.
GIVEAWAY
Enter to win! One winner will receive a 45 count box of AnxioCalm. (ARV: $35.95)
How? It's easy! Just enter to win using the Giveaway Tools form below. Good luck!
For more information, visit:
---