Simplify your beauty routine for Spring with these new innovative multi-tasking products from Sally Hansen, Rimmel London and NYC New York Color—beauty should be easy!
NEW NYC NEW YORK COLOR INDIVIDUAL EYES SHADOW PALETTE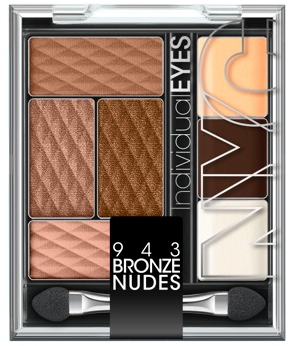 THINK : All-in-one portable eye palette
WHAT IT IS : An all-in one palette containing a primer, four complimentary shadow shades, a highlighter and a gel liner. Each palette comes with step-by-step instructions for easy application
AVAILABLE SHADES: three shade ranges: (link to all available shades: https://www.newyorkcolor.com/en/makeup/individualeyes-eye-shadow-palette)
The Nudes Collection: soft, warm neutrals available in Beige Nudes, Pink Nudes and Bronze Nudes
The Basics Collection: brown tones for each eye color, including Green Eyes Basics, Blue Eyes Basics and Brown Eyes Basics
The Smokey Eyes Collection: sultry options of Smokey Charcoals and Smokey Violets
WHAT IT COSTS : $4.99
RIMMEL INTRODUCES ITS FIRST SCULPTING & HIGHLIGHTING KIT DESIGNED BY KATE MOSS
THINK: Get Ready For Model-Worthy Contours
WHAT IT IS: Known for her infamous cheekbones and her unique sense of style, Kate Moss has collaborated with Rimmel to create her very own Rimmel Sculpting & Highlighting Kit. Using her expertise in sculpting gained from years of experience Kate has collaborated with Rimmel to design a palette made up of three silky soft pressed powders to highlight, contour and define your face. After all, who better than Kate to create a sensational sculpting must-have?!
Get the gorgeous bone structure you always wanted! Rimmel introduces its first Sculpting & Highlighting Kit designed with Kate Moss – a trio of pressed powder shades to highlight, contour and define. Perfect for every face shape and skin tone, the silky soft powders seamlessly blend with your natural skin tone to create a healthy, radiant, sculpted look.
The easy-to-use kit features:
1. Soft shimmer powder to highlight
2. Matte shading powder to contour
3. Powder blush for definition and color
Use a little colour for a natural, everyday contoured look. Or be bold with a dramatic sculpted look. Each of the powder shades can also be used separately.
Ready to sculpt and contour like a celeb? Get the London look.
AVAILABLE SHADES: #001 Golden Sands – for fair skin, #002 Coral Glow – for fair to medium skin, #003 Golden Bronze – for medium to dark skin
WHAT IT COSTS: $6.47
CREATE ULTRA-CURVACEOUS LASHES IN THE BLINK OF AN EYE WITH NEW 24 HOUR SUPERCURLER MASCARA FROM RIMMEL LONDON

THINK: It's time to lose your lash curler.
WHAT IT IS: New 24 Hour Supercurler Mascara from Rimmel London is a revolutionary mascara and lash curler in one, giving you dramatic, even curl and volume that lasts all day and all night. No more pulling or tearing at your lashes—with its built-in curling power, the mascara gives lashes a "perm" effect.
The patent-pending formulafeatures a revolutionary polymer, a spherical micro-sponge, and a soft gel. When combined, the breakthrough formula curls, volumizes, and pushes lashes up to a phenomenal90 degrees. Lashes are visibly transformed as soon as you apply, and set to a flawless curl in seconds.
With its curved-eye shape, the special brush fits perfectly into thecontours of your eye, giving you flawless application every time. Its cleverly-designed fibers lift and curl lashes from the root to tip, separating each lash for defined, clump-free color. Use the mascara alone, or create an eye-opening look by layering it over your favorite Rimmel mascara. Let your lashes defy the laws of gravity with breathtaking curve appeal.
AVAILABLE SHADES : Black, Extreme Black
WHAT IT COSTS: $6.49
---
Disclaimer: I received samples of these products in exchange for this post.