Spring is here! Well, sort of. Today it is pouring rain, but that is okay! It is the perfect day for an at home facial using Beyond Glow Botanical Skin Care for beautiful glowing skin. I am completely obsessed!
Beyond Glow Botanical Skin Care unmasks the reviving and advantageous powers of nature while unleashing the pure effects of botanical ingredients. Specially formulated using an ancient Guru Recipe for intense moisture benefits, Beyond Glow offers glowing skin and a fresh approach to natural ingredients.
To start out my perfect facial, I cleanse my face with my Beyond Glow Botanical Foam Cleanser, which creates the most luxurious, richest lather. It feels so nice as I apply it to my face and neck. It even removes tough makeup without hurting my eyes, it is so gentle! I massage it all over my face, neck and upper chest area. It love how it rinses perfectly clean without leaving any residue.
I have found that the tiniest amount goes a long way. I learned this when I lathered up my face, neck and chest- and discovered there was still enough of the product on my hands to shave my legs with too! So I learned to just use a smaller amount each time I cleanse, which I love to do in the shower!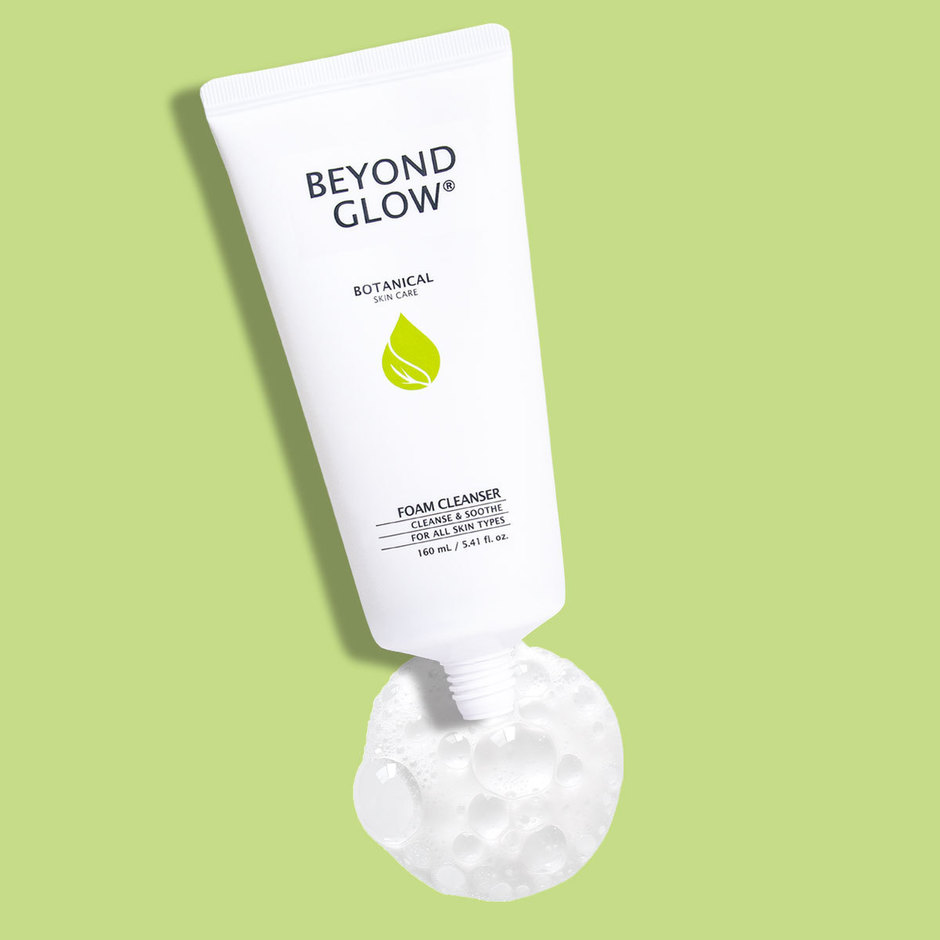 The next step in my at-home facial is one that many people tend to overlook. You NEED to exfoliate! It is very important to remove dead skin cells, and to rid your skin of that layer of residue that even the best cleanser can leave behind. Beyond Glow Smoothing Peeling Gel lightly exfoliates dead skin cells and impurities revealing a smooth, healthy-looking glow. When massaged into the skin, it helps to unclog pores improving texture and increases the moisturizing effects of your skin care creams and serums.
After cleansing, I pat my skin dry with my towel (leaving it a bit damp, but not wet) and apply a small amount of peeling gel to my fingertips and gently massage it all around my face, neck, and chest. It is amazing! You can actually see and feel the dead skin flaking right off. Next, I rinse my skin and pat it dry. It is unbelievable how smooth my skin feels after removing that dulling layer of dead skin cells. Any skin care applied after exfoliating will absorb into the skin much more efficiently, now that the barrier of build-up is gone. It makes sense, doesn't it?
The final step of my skin glowing facial includes my skin care treatment and moisturizer. After using the peeling gel, my skin is ready to absorb moisture and nutrients that can only come with the proper skin care products. This is why I love Beyond Glow Moisturizer Boost Cream.
Moisture Boost Cream is an intense moisturizing cream, infused with botanical complex that works to provide rich moisture and essential nutrients to the skin. Soft, whipped-cream texture instantly increases moisture, delivering firmer skin with a youthful appearance and glow.
I apply this rich and luxurious cream to my face, neck and upper chest area, and massage it into my skin. My thirsty skin completely absorbs the cream, and I immediately see and feel the glow, which lasts all day long. There is no greasiness, and no shine. It is the perfect canvas for my makeup. I can wear my foundation over it, and it looks fabulous. A lit from within look. I love it! The hydration lasts all day long.
Beyond Glow Skin Care can be used for both day and night time skin care regimens. I use it for both, and my skin thanks me for it.
For additional information about Beyond Glow Skin Care go to: https://beyondglowskincare.com/