Although we tend to think of it as a summertime problem, dropping temperatures and drier conditions during the cold winter months leave our skin dull and dehydrated. This means changing up a few things in your skincare regime, Jergens and Curel offer ultra-nourishing and intensely hydrating options to keep your skin feeling smooth and looking healthy all season long:
1. Exfoliate This season, exfoliating is a crucial, non-negotiable step in your morning shower routine. Using a delicate but effective sugar scrub like the Josie Maran Argan Sugar Balm Body Scrub exfoliates and removes dead skin cells, allowing moisturizers to be more effective as they penetrate deeper into the skin. Plus, this soothing scrub is formulated with shea butter, argan and coconut oil so it nourishes the skin while it exfoliates!
PRODUCT RECO: Josie Maran Argan Sugar Balm Body Scrub
2. Moisturize
When it comes to hydration, a high-quality moisturizer is a must-have. Jergens Shea Butter Wet Skin Moisturizer is applied to wet skin right after showering, maximizing hydration when skin is most receptive to moisture. The water activated formula absorbs right away as vitamin-rich shea oil leaves you feeling smooth and soft – and without the heaviness and greasy residue of a traditional lotion. Have you ever tried an in-shower moisturizer? There is seriously nothing like it! My skin has never retained moisture as well as it does after using this product! I love it!
PRODUCT RECO: Jergens® Shea Butter Wet Skin™ Moisturizer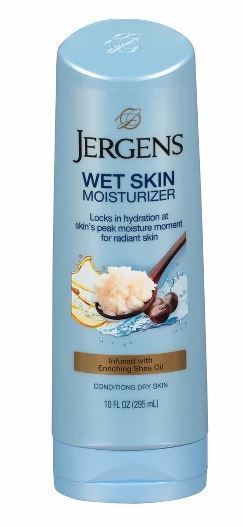 3. Repeat
Sometimes, slathering on moisturizer once a day simply isn't enough, and that especially applies for people who deal with dry, flaky skin. Think of Curel Rough Skin Rescue Smoothing Lotion as your go-to hydration boost, and apply as needed throughout the day. Made with skin-soothing ingredients like olive oil, this hard-working formula aids in your skin's natural exfoliating process, and then delivers much-needed hydration, restoring the moisture barrier to prevent dry skin in the future.
PRODUCT RECO: Curel Rough Skin Rescue Smoothing Lotion