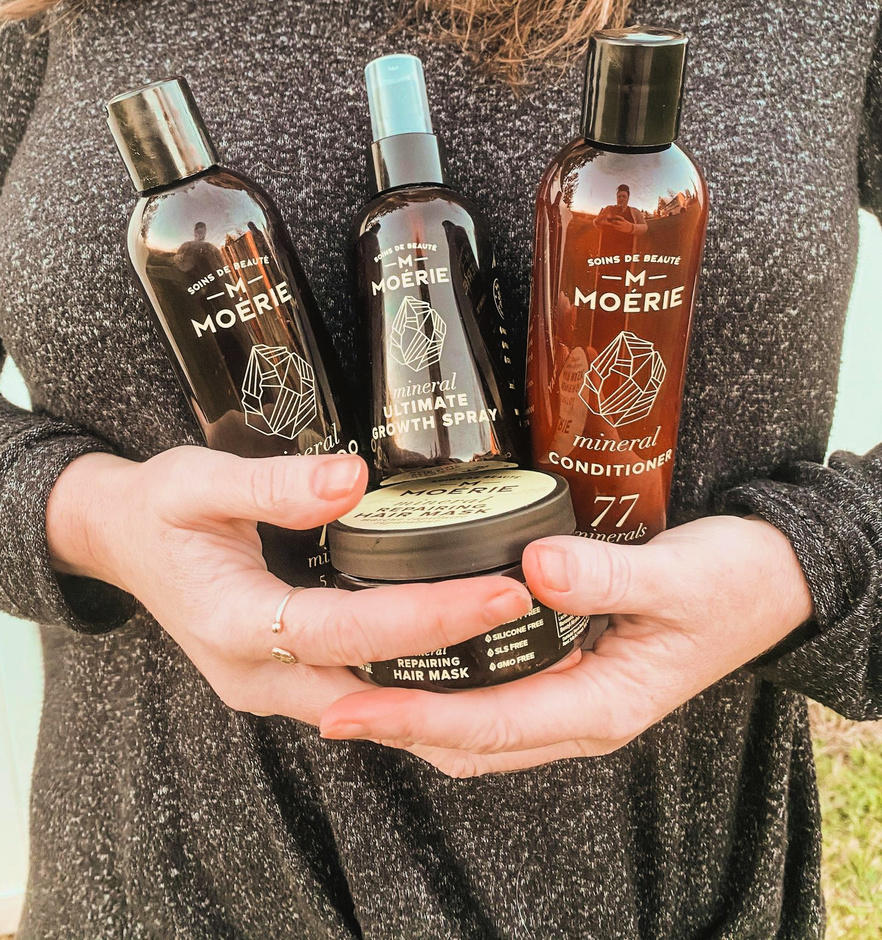 I have been obsessed with Moérie Beauty hair care products ever since I first saw their ads on Facebook, and Instagram. I knew I needed to give this brand a try because my hair just grows so slowly! Plus, it breaks off when it gets to a certain length, and my ends start to split. It seems like every single product I have ever tried before has made promises to help my hair grow, but nothing has worked!
I was intrigued by Moérie Beauty because their products were developed to restore health and vibrancy to the hair, and to help hair grow!
The creators of Moérie Beauty, through extensive research into the science behind hair growth – did studies about the hair follicle, the different growth stages of hair, how hair reacts with various ingredients, etc. and what they discovered made them rethink everything about what hair truly NEEDS to grow!
It was out of this research that they created the Moerie line of natural hair care products – products, completely in tune with the natural hair growth cycle.
What was the big discovery? It turns out, the hair growth cycle is made up of 3 separate stages:
THE ANAGEN STAGE
THE CATAGEN STAGE
THE TELOGEN STAGE
But by far the most crucial stage, in terms of hair growth, occurs during the first stage – the Anagen stage, and it's the one to focus on.
During this stage, hair follicles take in nutrients and oxygen vital to the growth process. Ensuring a consistent supply of key nutrients during this stage results in stronger and healthier hair.
However, the lack of proper diet plus daily exposure to toxins can easily disrupt hair growth during this stage. To overcome this, an extra boost of key nutrients during this vital stage can make a big difference.
ALL MOERIE HAIR CARE PRODUCTS CONTAIN A PROFUSION OF QUALITY NUTRIENTS!
Sourced from specific artisanal and wildcrafted providers, often from exotic and remote locations, these unique and highly sought substances are nutrient packed and are of the highest quality and potency.
This means that your hair is treated with only the most potent and effective nutrients available, which in turn directly benefit hair restoration and growth.
I used to think that it was all about getting my split ends chopped off, but I have now learned that It's not about treating split ends, but instead, nourishing each individual hair from the follicle up. Who knew?
But how can you ensure these beneficial nutrients actually get to the hair follicle?
THIS IS WHERE FULVIC ACID COMES IN. (I had never heard of fulvic acid. Have you?)
Fulvic acid is a 100% natural occurring super material comprised of active substances and amino acids which greatly facilitates the delivery of much needed nutrients directly to the individual hair follicle.
While both replenishing and recycling individual cells with much need nutrients, fulvic acid also "digests" inorganic compounds and balances electrolytes.
FULVIC ACID IS THEREFORE THE PERFECT NATURAL INGREDIENT TO AID IN THE HAIR GROWTH PROCESS RESULTING IN RESTORED, HEALTHY, STRONG AND LUSTROUS HAIR.
ALL MOÉRIE HAIR CARE PRODUCTS CONTAIN FULVIC ACID as it effectively delivers vital nutrients directly to the hair follicles, greatly enhancing the all important Anagen growth cycle stage.
"By following a nutritious diet and using Moerie hair care products that recognize and embrace the natural growth cycle, beautiful hair can once again be yours." I already eat a pretty healthful diet, and I even take biotin supplements for hair growth, so I hope I am at least headed in the right direction when it comes to nutrition.
As for my new hair care regimen, I begin by washing my hair with Mineral Hair Repair Shampoo.
This enriched natural mineral shampoo deep cleanses each individual hair, removing harmful oils and toxins like silicones and parabens (found in conventional hair care products). In addition to cleansing, Moérie Shampoo also infuses hair with fulvic minerals, vitamins and amino acids. I love how it foams into a luxurious lather. I massage it into my scalp for 3 minutes before working it throughout the ends of my hair. It rinses perfectly and leaves my hair feeling refreshed. It also has an intoxicating fresh scent.
After every shampoo, I follow with the Mineral Hair Repair Conditioner. This mineral conditioning formula softens hair, making it silky and shiny. The special formula prevents frizzing and tangling an infuses each individual hair with a further dose of nutrients vital for healthy, vibrant hair. I leave it in my damp hair for about 3-5 minutes, while massaging it into my scalp. I usually shave my legs while waiting for the conditioner to work it's magic. It also has a fresh scent. It leaves my hair silky and shiny!
Once per week I use the Mineral Hair Growth and Repair Mask (after shampooing) instead of the conditioner. I leave it in for 3-5 minutes, making sure to massage it into my scalp, and through to the ends. It leaves my hair healthy looking and feeling so soft. I cannot help but run my fingers through it all day long!
*Tip– After washing your hair, towel dry to remove excess water before applying your conditioner or hair mask. Then, comb the treatment throughout your hair and pile it up on your head (fastened loosely with a non-snagging hair band. Leave the product in your hair while you shave your legs (or for about 3-5 minutes) before rinsing. (This allows your hair to soak up the benefits of the hair treatments without diluting it with the extra water when your hair is wet.)
After washing and conditioning my hair using my Moérie products and towel drying my hair, I apply the Ultimate Mineral Hair Growth Serum Spray to my damp hair. I part my hair all over, and spray the formula directly onto my entire scalp, and massage it in to the skin for about 3 minutes. After that, I brush my hair to distribute the serum from roots to ends.
The ultimate hair growth serum spray was designed to give your hair the boost it needs to grow long and luxurious. This unique and gentle formula features over 125 active substances and is highly effective in promoting hair growth, with results often visible after only the first bottle. With no rinse required, the long lasting formulation works throughout the day for maximum effect. I have definitely noticed a difference in the softness and texture of my hair after only a couple of uses!
Have I found the holy grail of hair care? I am thinking I may have hit the beautiful hair jackpot with Moérie Beauty. I have only used it a few times so far, but I was looking at my hair in the sunshine today, and it was actually gleaming. That had never happened before. My hair was always dull, no matter what, but it was seriously shining like gold. I am so excited to see how long my hair will grow! Stay tuned!
Holiday Sale!
Right now there is an incredible promotion that when you spend over $110 you will receive their Ultimate Hair Growth Spray FREE! ($35 value)
For more information, please visit: https://moerie.com/