You have heard that silly phrase, "I scream for Ice Cream" right? Well right now I'd like to shout from the rooftops about my favorite new sunscreen- Ice Cream Sunscreen!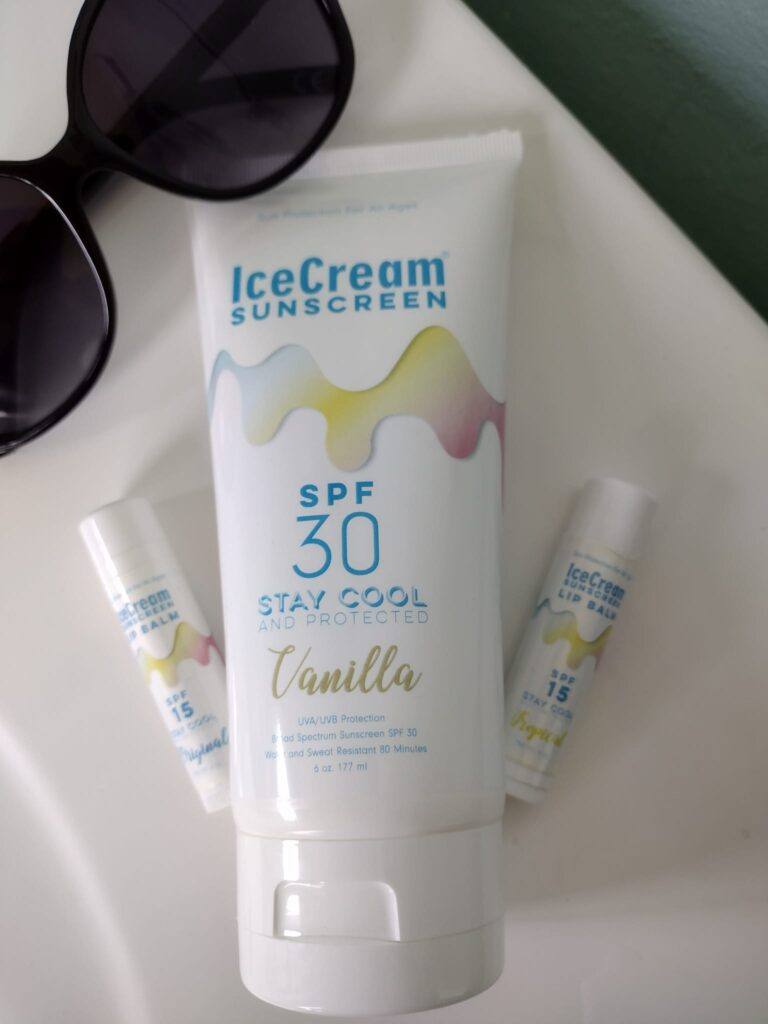 This reef-friendly, water-resistant, animal cruelty free, sulfate free, parabens free brand of sunscreen and protective lip balm is made for all ages.
IceCream Sunscreen has been making a big splash since inception in South Florida to many locations that also see the brand as fun and playful, made for anyone and very resourceful! You will find it in specialty shops across the nation.
IceCream Sunscreen has added Original, Vanilla, Chocolate and Tropical scents to their product line which includes sunscreen and lip balm.
Lip Balm: IceCream Sunscreen's SPF15 lip balm comes in an array of flavors and is ultra-moisturizing! Fun flavors to choose from while maintaining healthy and plump lips. I love the Tropical flavor. It tastes so yummy that I have to stop myself from licking  it off of my lips like ice cream.
Sunscreen: IceCream Sunscreen's SPF30 sunscreen is light enough for the facial skin, yet strong enough to protect the whole body from UVA and UVB rays. Healthy and protected skin from head to toe!
It makes my skin feel silky and soft. I love the way it feels on my skin, even my face- without that greasy feel that most sunscreens have.
CEO and Founder of IceCream Sunscreen, Melissa Juried Kriebel says "With all the changes in climate and our environment, I made it my goal to keep everyone protected from the sun without any harmful ingredients. Having some amazing "flavors" and a moisturizing feel has been an additional catalyst in its growing popularity," she added.
IceCream Sunscreen has a path of helping others in which they've already participated in several charity events such as the Make-A-Wish Foundation 11th Annual 5K Walk for Wishes, Young At Art Museum's 15th Annual Teen Recycled Fashion Show, and continues to invite other charities to reach out for involvement.
I love IceCream Sunscreen's deliciously flavored and scented lip balms and sunscreen. I received samples of these products, and I am in love with the delectable Tropical flavor of the lip balm, which glides smoothly over my lips, leaving them hydrated and protected from the sun. I also love the intoxicating scent of the Vanilla scented sunscreen- which leaves my skin feeling soft and smooth, and non-greasy.  I am so excited to put these to use this summer, on my many adventures with my family. With the trusted protection of IceCream Sunscreen, I say, "Bring on the sun!"
Giveaway
Enter to win: One winner will receive a full-sized tube of Ice Cream Sunscreen and a tube of SPF Lip Balm in the fragrances of their choice. ARV: $25
Just fill out the entry form below for your chance to win! Don't forget to follow Ice Cream sunscreen on Instagram!
Learn more and purchase IceCream Sunscreen here: (www.icecreamsunscreen.com)
IceCream Sunscreen on Instagram: @icecream_sunscreen