One of my favorite things in life is when I discover a skin care company that has high quality, natural products. Aroma Actives is amazing!
Aroma Actives is pure, natural and effective. Nature is an endless source of inspiration. They passionately believe in only using the purest natural active ingredients and essential oils that deliver potent nutrients and glowing, radiant skin.
Each Aroma Actives formula is innovatively crafted without harsh chemicals to benefit both mind and body and to visibly restore health and natural vitality for long-term radiance.
All of Aroma Actives products are free from:
Parabens
SLS (Sodium Lauryl Sulphate)
Mineral Oils
Petroleum
Propylene Glycol
PEG
Artificial fragrances and colors
I received several samples of Aroma Actives products to review. I chose the following: Lift & Firm Night Cream, Neck & Décolleté Cream, Daily Benefits Shampoo and Daily Benefits Conditioner.
My favorite time of the day is actually when I take my shower. I absolutely love using my Aroma Actives products because it makes my shower a spa experience every time! I start off washing my hair with the Daily Benefits Shampoo, which develops a luxurious lather, and rinses clean, and leaves my hair smelling amazing.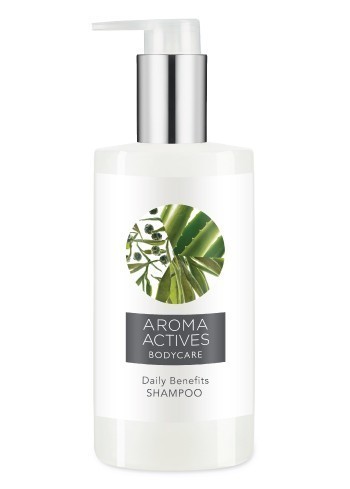 After rinsing out my shampoo, I apply my Daily Benefits Conditioner ,evenly coating my hair from my roots to my ends. I always leave it in during the time I take to shave my legs, which is about five minutes. After rinsing, I can feel that my hair feels as soft as silk and smells heavenly.
Since I almost always take my showers at night, I always apply my night time treatments right afterwards. That way my face is always fresh and clean and ready to accept the treatments I use. The first product I apply is my Neck & Décolleté Cream (I also use it first thing in the morning.)  I am definitely at the age where my skin needs as much help as it can get, especially in the neck area. The neck is the first part of the body to show aging. When I apply this amazing cream to my neck and upper chest area, I can feel my skin firming up. The skin truly begins to tighten up and my youthful look is restored. I love it!
Infused with Frankincense and Geranium essential oils to rejuvenate and nourishing Shea and Cocoa Butters to nurture this often neglected area. Skin is left feeling tightened, firm and plump.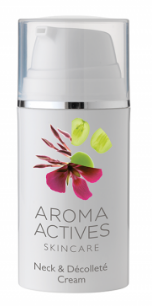 Since my skin repairs and renews itself during the night, I make sure that I use a high quality night cream. I love my Lift & Firm Night Cream because it makes my face looked radiant and beautifully refreshed upon waking up.
This anti-aging night cream that works its magic while you sleep. Wake up to plumper, tighter and more youthful looking skin with this anti-aging night cream. Its effective formula, including antioxidant rich Blueberry and Pomegranate botanical extracts, nourishing Shea Butter, firming Bee Venom, and rejuvenating Frankincense essential oil, reduces the signs of premature aging and improves the appearance of wrinkles.
I am very impressed with Aroma Actives. Not only do they come in beautiful dispensers, give me radiant, glowing skin and hair, but they also have completely affordable prices! What is not to love?
---
*Product received. All opinions are my own.