Did you know? Your skin is the largest organ of your body and since it is porous, it absorbs whatever you put on it. That can be kind of scary, especially for babies and children! I have a precious three month- old baby granddaughter now, and I use one of the best baby bath seats and products on her that are non-toxic, and free of any unnatural chemicals or ingredients that could compromise her health and well-being. I recently discovered Dapple Baby.
Dapple Baby was created by moms, for moms. Dapple's mission is to create completely gentle and effective baby-focused products. Their top green scientists have developed plant-based solutions that pack a punch; these powerful formulas have even earned a "Best in Class" rating from the Clean Label Project, a non-profit organization focused on promoting pure products in the marketplace.
Dapple products are non-toxic, pediatrician- and dermatologist-tested, hypoallergenic and formulated without parabens, phthalates, mineral oil, synthetic dyes and fragrances, SLS, MEA, DEA and TEA.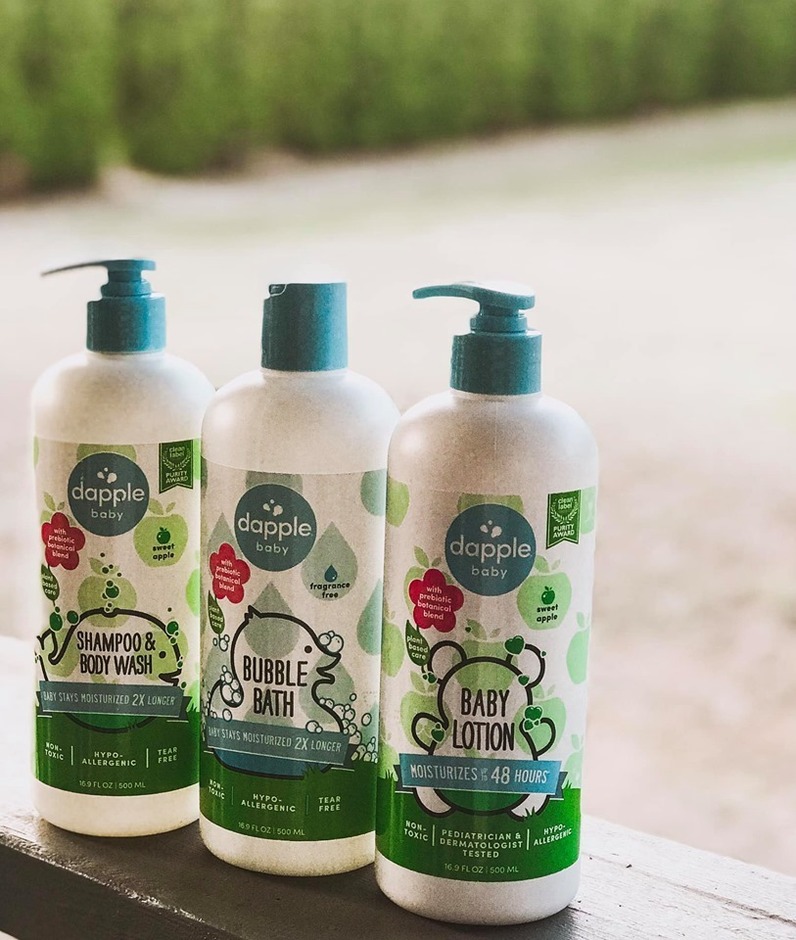 I was sent samples of Dapple Shampoo & Body Wash, Baby Lotion and Bubble Bath to review. I selected the Sweet Apple fragrance, and its smells amazing!
Dapple Shampoo & Body Wash uses a tear-free, plant-based formula to gently cleanse baby from head to toe. The prebiotic botanical blend leaves skin moisturized 2X longer and gives moms peace of mind. I love how it doesn't irritate the baby's eyes as I gently wash her hair and chubby little cheeks. She feels so fresh and clean after her bath.
The Baby Lotion makes my little one's skin feel extra soft and smooth. It moisturizes the skin for up to 48 hours. The prebiotic botanical blend helps restore baby's natural skin barrier. I love to apply it all over her right after her bath to seal the moisture into her skin. I love using it in her hair, to give it a bit of texture. I love applying it to her sweet baby rolls, especially in her precious neck folds. There's nothing quite like a fresh smelling, squishy baby!
As for the Bubble Bath, I am actually using it for my little boy. He is far from being a baby, but he is still my baby and I am very cautious about the products he uses on his skin. Braxton enjoys his daily bubble baths, and I want make sure he doesn't use any products or cheap 'bubble baths' that could irritate his skin, or expose him to harmful toxins. Dapple Bubble Bath gives off endless bubbles that are rich and foamy, and they last a long time! Plus, Braxton's dry skin is being moisturized, so that makes this formula even better than his usual bath products.
For more information, visit www.dapplebaby.com